Matthew Owens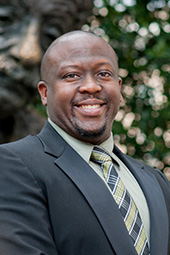 Fellowship Placement: National Science Foundation
Hometown: Columbia, SC
Matthew M. Owens is a high school math teacher specialist/coach who taught at Spring Valley High School's Explorations Magnet Math/Science Program in Columbia, South Carolina. Matthew is serving his fellowship at the National Science Foundation (NSF) Directorate for Education and Human Resources (EHR) Division of Human Resource Development. He taught high school mathematics (grades 9-12) including Algebra (1, 2, and 3), Probability and Statistics, Precalculus, Geometry, and Advanced Placement (AP) Calculus AB. He has specialized in high school mathematics curriculum design and led professional learning opportunities for teachers within the areas of assessment, project based learning, mathematics content knowledge, educational technology, and teacher quality (ie. National Boards for Professional Teaching Standards certification). He serves as an AP Reader for the College Board's AP Calculus AB Exam and a regional instructor for Texas Instruments' Teachers Teaching with Technology.
Matthew earned a Bachelor of Science in Mathematics Education as the first graduate from the South Carolina Teaching Fellows Program from South Carolina State University and is currently completing his last year of the Master of Education in Educational Technology at the University of South Carolina Columbia campus.
Matthew has earned many prestigious awards for his excellent contributions to teaching mathematics including the Educational Testing Service Vice President's Certificate of Excellence for Scoring in the Top 10% of all Principles of Learning and Teaching examinees National Boards for Professional Teaching Standards (2009), Presidential Awards for Excellence in Teaching Mathematics and Science (2012), and U.S. Presidential Scholar Most Influential Teacher (2013).