Anne Artz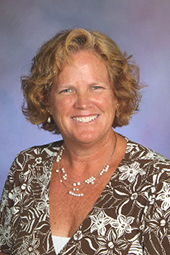 Fellowship Placement: Capitol Hill
Cohort: 2013-2014
Anne Artz is a 24-year veteran teacher who has taught grades 7th-12th in all areas of science. For the past eight years Artz has been the science department chair, the student government advisor, and an Advanced Placement Environmental Science Teacher at The Preuss School UCSD, a charter school in San Diego, California. In addition to teaching environmental science, Artz has taught AP Biology, Advanced Biology, middle school Life Science, and middle school general science. In addition to being a classroom teacher, Artz has five years of experience as a school administrator, having served as the assistant principal in both middle and high schools in the San Diego area.
Artz graduated from the University of California, Riverside with a bachelor's degree in biology and a passion for science research. While in college, she worked in a microbiology lab and upon graduating, continued that research at the Baylor College of Medicine in Houston, Texas. She returned to the San Diego area and worked for two different biotechnology companies as a research scientist before getting her California Life Science Teaching Credential and beginning her teaching career as a middle school science teacher in Carlsbad, California. She went on to receive her master's degree in school administration and worked as a school administrator with a special focus on special education and student activities.
Since returning to the classroom at The Preuss School UCSD, Artz has been recognized numerous times for her dedication and skill as a teacher. In 2010 she received national recognition as an Amgen Distinguished Science Educator. For the past four years, Artz has been a Society for Science and the Public Fellow, receiving funds and support to direct a program at The Preuss School UCSD that fosters science research skills and promotes research activities for all students. This past year she used the fellowship funds to create a partnership with the school and Hubbs-SeaWorld Research Institute in a joint research venture with senior students who raised endangered sea bass for eventual release. Artz is dedicated to seeing that all students, particularly those who come from low income families, receive the training and exposure to rigorous hands-on science activities. It is her goal to see as many students as possible, particularly girls, enter college prepared to study for STEM (Science, Technology, Engineering, Math) careers. Artz strives to model being a life-long learner for her students and has participated in a number of programs designed for teachers including the Scripps Research Institute Educator's Program where she trained with other teachers on the latest biotechnology lab techniques, the National Oceanic and Atmospheric Administration (NOAA) Teacher At Sea Program, and in 2013 joined 12 other teachers on a three week trip to Brazil through IREX Teachers For Global Classrooms. In Brazil, Artz and her fellow teachers visited 15 schools, met with teachers and administrators, and collaborated with teachers who had visited other countries to examine and evaluate global education practices.
"I love science – everything about it. The study, the experimenting, the use of technology – all of those continuously remind me why I went into science in the first place. I want to pass that thrill, that excitement, onto my students. I can't think of anything more exciting than learning about the world around us" says Anne. Artz believes strongly that all students should have access to quality instruction and rigorous curriculum. She leads her department in critical data analysis of student achievement and was responsible for submitting a grant proposal that resulted in The Preuss School UCSD being named as one of the top "Breakthrough Schools" in 2012 by the National Association for Secondary School Principals (NASSSP). Artz and the school's administrative team presented at the NASSP national convention in 2013, highlighting the strategies that have set their school apart. Artz and the teachers at The Preuss School UCSD work diligently to see that each graduate is accepted into a 4-year university, a goal reached by 100% of the 2013 graduating class.
A 2013-14 Albert Einstein Distinguished Educator Fellow, Artz worked in the congressional office of Paul Tonko, a representative from New York. While in Washington DC, Artz worked closely with agencies and constituents focused on reforming and improving K-12 education and visited with schools and leaders both in the Washington DC area and in the Albany area, arranging engineering activities with local elementary schools. "I never really understood the role of the federal government shaping education policy" says Artz. By attending briefings and hearings, Artz learned how federal regulations are developed and implemented and was able to provide insight to staff on the implications of educational policy for students and teachers. Professionally, the Einstein Fellowship allowed Artz to meet and dialog with a variety of people and organizations that have influence over policy, curriculum, and the financing of public schools. "I'm grateful for the connections I've made that I believe will allow me to be a better teacher and a qualified spokesperson for all teachers, particularly those in the STEM fields."
Outside of the classroom, Anne enjoys outdoor activities such as hiking, biking, and running. An accomplished marathoner, she has successfully completed marathons in six different states. She recently became interested in photography which she combines with her love of the outdoors. She is an avid gardener growing large crops of vegetables in the summer and canning fruit to give to her family and friends. She is married and has three adult daughters and three grandchildren.
After completing her year as an Einstein Fellow, Artz will return to The Preuss School UCSD where she will teach part time and will be the new STEM Coordinator, a position created for her by the school to take advantage of her expertise in STEM education and STEM policy development. Artz hopes to utilize her connections made in Washington DC to improve the quality of STEM education and STEM teacher preparation.