Unlocking the Secrets of Irregular Data: Milind Kulkarni
Enlarge Photo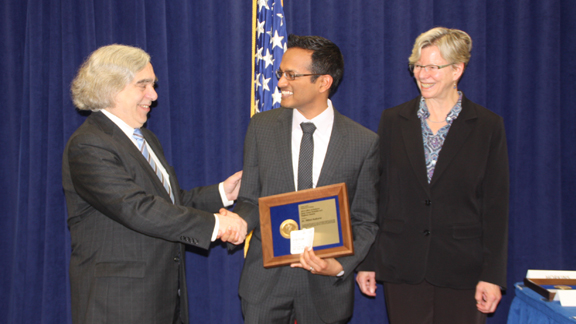 Photo courtesy of DOE Office of Science Public Affairs and Communications
Add together 20 numbers. Identify the 20 most similar species of birds. For a supercomputer, the first task is easy. The bits of information are identical and can be grabbed in any order. In the second task, the data are characteristics and relationships. They're the color of feathers, the shape of beaks, the span of wings and how they all relate together. This type of data is called irregular data, and it's found all the time in climate analysis and security studies. And it was tough for supercomputers to crunch until Milind Kulkarni, an associate professor at Purdue University, took on the challenge.
He designed techniques that break irregular data into tiny bits of regular data, identifying common patterns in the data and algorithms that allow supercomputers to process the data as simple structures, rather than complex relationships. That didn't solve the whole problem. The smaller data bits could mean redundant calculations and communication, like having your workload triple overnight. Kulkarni built algorithms that automatically combined the calculations, reducing the workload back to manageable levels. He unlocked the ability of supercomputers to process irregular data.
Kulkarni's work has earned him the Presidential Early Career Award for Scientists and Engineers (PECASE). This is the highest honor given by the U.S. government to researchers in the early stages of their careers. Kulkarni was nominated by the Advanced Scientific Computing Research Office at DOE's Office of Science.
His work is quite popular; he's often invited to give talks. "My research keeps me excited about the field," he says. "I bring that excitement to my students, and it makes me a better teacher." He's won four teaching awards since he started at Purdue in 2009.
Before joining Purdue University, he was a postdoctoral fellow at the University of Texas at Austin. He earned doctoral and master's degrees from Cornell University, where he was funded by a DOE High Performance Computer Science Fellowship that cultivates a broader scientific perspective. He graduated summa cum laude in computer science and engineering from North Carolina State University.
Kulkarni received the PECASE award in a DOE ceremony on May 4.
The Office of Science is the single largest supporter of basic energy research in the physical sciences in the United States and is working to address some of the most pressing challenges of our time. For more information please visit http://science.energy.gov.
Kristin Manke is a Communications Specialist at Pacific Northwest National Laboratory on detail to the U.S. Department of Energy's Office of Science, kristin.manke@science.doe.gov.