Nuclear Rule Breakers: Matthias Schindler
Enlarge Photo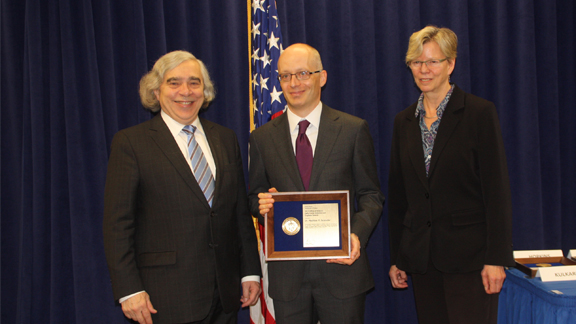 Photo courtesy of DOE Office of Science Public Affairs and Communications
Physicists have set their sights on understanding the details of the small bits that make up atomic nuclei: protons and neutrons. They have highly accurate data and a theory – but the data and the theory aren't quite connected yet.
Matthias Schindler, a theoretical nuclear physicist at the University of South Carolina, is contributing to a unified view of how protons and neutrons, collectively called nucleons, interact and work together. He's developing this theory by understanding how nucleons break physics' rule of parity.
To understand parity, look at your right hand and a mirror image of your left hand. The two are the same, and you can't tell the difference. Similarly, most physical laws, like gravity or the force between two electric charges, do not make a distinction between a reaction and its mirror image. There are, however, exceptions to this rule.
Schindler's theoretical work is being tested experimentally and it's earned him the Presidential Early Career Award for Scientists and Engineers (PECASE), the highest honor given by the U.S. government to researchers at the beginning of their careers. He was nominated by the Office of Nuclear Physics at DOE's Office of Science.
"I didn't expect it," he says. "You don't get an email from the White House every day."
Before joining the faculty at USC in 2011, he was a postdoctoral fellow at Ohio University and George Washington University. He earned his doctoral degree in physics from the Johannes Gutenberg University in Germany. He's on the executive committee of an American Physical Society Topical Group and has co-written a physics textbook.
Schindler received the PECASE award at a DOE ceremony on May 4.
The Office of Science is the single largest supporter of basic energy research in the physical sciences in the United States and is working to address some of the most pressing challenges of our time. For more information please visit http://science.energy.gov.
Kristin Manke is a Communications Specialist at Pacific Northwest National Laboratory on detail to the U.S. Department of Energy's Office of Science, kristin.manke@science.doe.gov.