Champions in Science Whose Stars are Still Rising: Profile of Jeff Zira
Enlarge Photo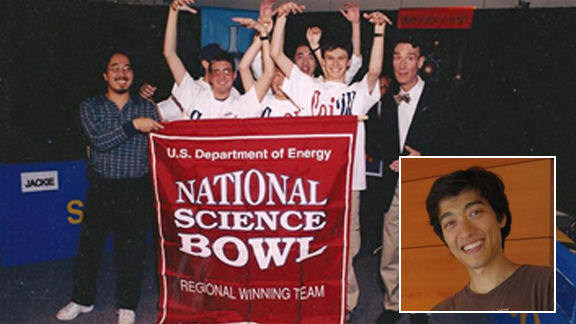 Photo courtesy of Jeff Zira
To succeed, you need to focus on something that you really care about, something that makes the world a better place. Just ask Jeff Zira, a 2001 Department of Energy National Science Bowl® (NSB) champion who is the Chief Technology Officer and co-founder of lark technologies, a software company with a smartphone app that helps people create healthier lifestyles.
With an organic chemistry degree from the University of California, Santa Barbara and an MBA from the Massachusetts Institute of Technology, Zira finds it ironic that he spends his days leading development teams that create apps. "The one skill that I didn't cover in science bowl was computer science, and now I use it every day," he says.
He did cover a multitude of topics as a member of North Hollywood High School's science bowl team. "We learned a lot of interesting trivia," Zira says. "But we also got a good understanding of how science—as a whole—works, and I enjoyed getting that broader view."
He was a member of the science bowl team for four years and remembers his junior year most fondly. "We were goofballs off the court," he said. "We had these strange inside jokes and spent a lot of time messing around together, playing Frisbee, and watching movies."
But on the court, they were all business. In his junior year—2000—the team consisted of Zira, Daniel Bersohn, Nina Han, Tyler Rubin, and Jackie Wong. They studied together, each specializing in different subjects. They also practiced several times a week, using old questions and new ones that they wrote.
"The Los Angeles [NSB] region is always very competitive," says Zira. "There are really good teams in the area." To keep focused during the matches, Zira and his team members trained themselves to not pay attention to the scoreboard. "We were ruthless and focused, occasionally to the point of absurdity. At the regionals, we buzzed in and got the question wrong." The scorekeeper ruled it was an interrupt, meaning the team buzzed in before the moderator finished reading the question. Getting an interrupt wrong meant the other team got four points.
"We protested that it wasn't an interrupt, and then we looked at the scoreboard. The score was 200 to 0—maybe we didn't need to protest that one." The team went on to the national competition in Washington, DC, and placed fourth. Their prize was an expenses-paid trip to Pittsburgh, where they got to, among other things, check out a coal mine. "It was fun because it was with all my weird friends."
Enlarge Photo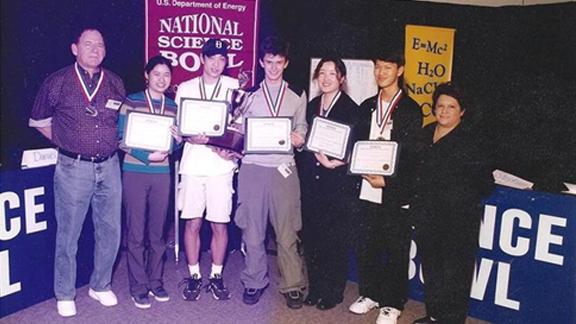 Photo courtesy of Jeff Zira
Next year, the North Hollywood High School team again made it to the NSB Finals in Washington, DC. This was his senior year, and Zira was the team captain. Bersohn was the only other science bowl veteran; everyone else was new. The other members were David Lee, Jeanne Shen, and Julia Hu.
At the NSB National Finals, the team ran into problems early on. At the practice sessions, they worked at predicting answers by listening for key words in the question and interrupting the moderator. It's a strategy that had led them to numerous victories.
But suddenly it wasn't working. "The questions were different. We couldn't predict the answers as easily," he says. "We kept jumping in and getting wrong answers. We really got thrown early."
Zira took the team aside and said, "Let's just take a moment; we can turn it around." The team slowed down and regained their composure. "It's one of the best things I did as captain," he says. They didn't win that first game, but they built up their momentum. "We were able to regain our stride, and it let us operate really smoothly."
They went on to win the entire competition that year.
"The high of winning only lasted a few days," he says. "I remember standing on the stage and thinking that it was cool that we won, but I wanted to know what was next."
What came next was college on both the East and West Coasts. After graduating with his MBA, Zira found that he liked startups more than science. At lark technologies, which he co-founded with NSB team member Julia Hu, the company developed an app that serves as a motivational buddy to encourage people to meet their weight loss goals. Apple named the app as one of the ten best in 2015. "We want to change the way you think about yourself," said Zira. "We want to let people see themselves in a much more positive light."
And it's that positive attitude and focus that he thinks will serve the 2016 teams as they compete in the Championship Finals at George Washington University's Lisner Auditorium on May 2nd. "I wish them all the best of luck."
Please go to Historical Information – National Finals – Profiles of Past Competitors to read more student stories about their NSB experiences.
The Office of Science is the single largest supporter of basic energy research in the physical sciences in the United States and is working to address some of the most pressing challenges of our time. For more information please visit http://science.energy.gov.
Kristin Manke is a Communications Specialist at Pacific Northwest National Laboratory on detail to the U.S. Department of Energy's Office of Science, kristin.manke@science.doe.gov.