Champions in Science Whose Stars are Still Rising: Profile of Kay Aull
Enlarge Photo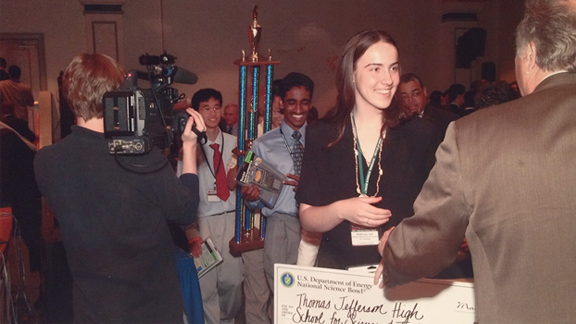 Photo courtesy of DOE National Science Bowl®
Kay Aull is a science fan, through and through. She found her tribe of fellow science fanatics at Thomas Jefferson High School for Science and Technology (TJHS) in Alexandria, VA when she saw a poster advertising tryouts for the school's 2001 Science Bowl team. "It was the first place I'd ever felt like I really belonged," she recalls.
Although Kay's teammates – Greg, Vlad, Jeff, and Steve – had competed before in the U. S. Department of Energy's National Science Bowl® (NSB), they had only gone as far as the regionals. With Aull on the team as the biology balance to their math and physics skills, the team advanced to the national finals in 2001 and tied for fourth place, kicking off a string of TJHS successes.
The following season, Aull and three other returning players – Greg, Jeff, Steve – plus Steve's twin brother, Gary, began their practice drills with Coach Sharon Baker Webb, knowing they were a national caliber team with a good shot at the NSB championship. That year, TJHS won the 2002 DOE National Science Bowl® and Aull said goodbye to her teammates as they graduated and headed off to college, leaving her as the sole veteran for next year's team.
As the national competitions began in 2003 with four rookie teammates, Aull was thinking "I hope I don't screw it up". She remembers, "We had a close call getting out of the round robin bracket. There was a real squeaker; we were down by two points. I buzzed in at the last second, just beat the [game ending] buzzer and we got into the finals" and won a second NSB championship in a row.
The next year, Aull was a marked woman; "I'm six feet tall and kind of conspicuous" as she walked into the national competition. People pointed her out as a favorite to win. The pressure was on; Aull was a senior, competing for the last time. "I always had nerves beforehand, mostly because I didn't want to let my team down. But in the moment, I'm pretty good at putting my game face on and getting it done." Aull and her teammates – Lisa, Samuel, Paul, and Michael – got it done and took home a third NSB championship trophy for Thomas Jefferson High School.
Enlarge Photo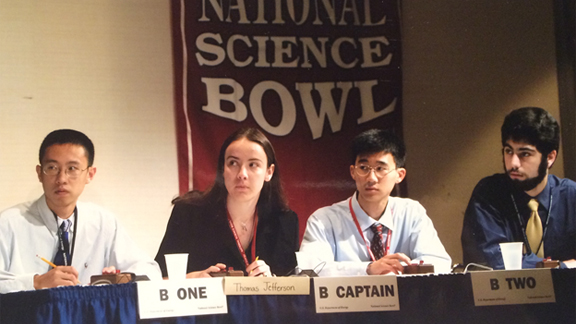 Photo courtesy of DOE National Science Bowl®
"Science Bowl was transformative for me because it was the first time I'd ever been good at something. I was a shy, nerdy kid with the athleticism and grace of a drunk giraffe. Then all of a sudden, I had friends who respected me, and competitors who were hoping I was on the other side of the bracket. It felt good.
"Moreover, my new friends introduced me to all kinds of other opportunities, simply because they thought I could do it. I wouldn't have heard of Olympiads, much less competed in them, without that push."
In addition to her National Science Bowl® competitions, Aull also represented the United States and medaled in the 2003 and 2004 International Biology Olympiads.
"And," says Aull, "I likely wouldn't have gotten into MIT either, which opened up even more avenues to me."
Through her undergraduate years at MIT and her current Ph.D. program at the University of California, San Francisco, she continues to work with the Biology Olympiads as an exam writer and teacher. She completes her doctoral program in bioinformatics this fall and plans to work in industry on big data.
"I'm happy, but not surprised, that the Science Bowl is thriving and continuing to grow. Round up your buddies," advises Aull, "and try out. It is a fun thing to do."
Please go to Historical Information – National Finals – Profiles of Past Competitors to read more student stories about their NSB experiences.
The Office of Science is the single largest supporter of basic energy research in the physical sciences in the United States and is working to address some of the most pressing challenges of our time. For more information please visit http://science.energy.gov.
Sandra Allen McLean is a Communications Specialist in the Office of Science, sandra.mclean@science.doe.gov.