Champions in Science Whose Stars are Still Rising: Profile of Julia Hu
Enlarge Photo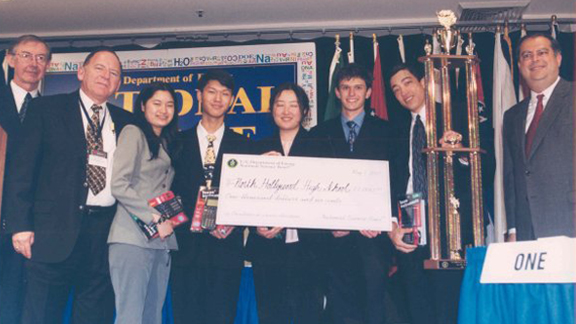 Photo courtesy of DOE NSB
To succeed big, you have to risk failing. Just ask Julia Hu, a former National Science Bowl® (NSB) champion who created and runs her own Internet start-up as CEO of lark technologies, a software company with a smartphone app for healthy lifestyles.
With an engineering degree from Stanford University and an MBA degree from Massachusetts Institute of Technology, Hu knows how to achieve success. Her company is the realization of Hu's vison – Lark, a personalized app giving you a nutrition and exercise coach in your pocket.
As a sophomore at North Hollywood High School, she took a test and made the school NSB team as an alternate, joining a team of experienced upperclassmen who had competed in the national competition in previous years.
"When practices started, it was actually a little intimidating. They were the smartest people I'd ever met and so dedicated," says Hu. "Our team had a lot of fun – I so fondly remember my days of Science Bowl because we had our own culture, silly inside jokes. We hung out together all the time," says Hu.
In 2001 the team consisted of Hu, David Lee, Jeanne Shen, Jeff Zira, and Daniel Bersohn; Hu, as a junior, was still the youngest member. The team practiced a couple of hours every few days by dividing and conquering subjects so that each team member had two or three fields – covering the areas that each were strongest in – with some overlap. Hu focused on her two loves – astronomy and math – and took on earth sciences.
At the practices, one important drill was predicting answers by listening to the key words in the question. In competition, the moderator will read the question number, then the subject area, then the question. A competitor can interrupt the moderator by buzzing in before the moderator has finished reading the question and get first chance to answer the question. But you'd better be right. The opposing team receives four points if you interrupt and give the wrong answer.
When they went to national competition in Washington, D.C., it was exciting and nerve-wracking. No one had expectations to win, but the team felt well prepared. "The trip to DC and the competition was so much fun – I hadn't traveled with a team before," recalls Hu. "We trekked into our dorms and there was a lot of energy – we were very amped up! When you are playing against other great teams and you see how much everyone cares, it makes you want to achieve and be the best you can."
Enlarge Photo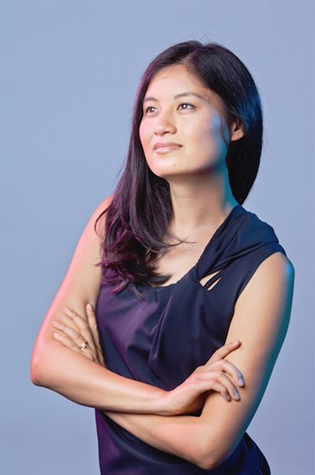 Photo courtesy of Julia Hu
In one qualifying round, the North Hollywood High School team was running 'neck and neck' with their opponents. "We needed to win this round to get into the finals. Time was running out and the last question was started by the moderator – he said maybe three words and one of our teammates – Jeff – buzzed in – not having heard more than two or three words! He predicted the question after he heard a key word and he yelled "Benzene!" recalls Hu. "It was the right answer; we won the round because of that and went on to win the national championship."
Her science bowl experience continued to enrich her life and even played a part in applying for college. The application to Stanford University asked her to "name one item important to you." "I named my science book cover," answered Hu. "The upperclassman [of the North Hollywood NSB team] had written every single thing that was useful for Science Bowl on one book cover – I remember the periodic table was drawn and lots of trivia – and this book cover was passed on from one team captain to the next. I kept it in pristine shape while I was studying and then passed it on."
One thing Hu didn't pass on was the friendships she made on her high school team. "We keep in touch; they are all doing amazing things. And Jeff [Zira] and I met on the science bowl team and now we are running the company together." Hu and Zira are taking their partnership to a new level; while Hu presented on stage at a recent tech conference, Zira proposed marriage through a surprise slide he sneaked into her presentation.
"This community [of science bowl friendships] lasts hopefully your whole life. My advice to students considering joining their school's team: You should definitely try out," recommends Hu. "I actually thought I flunked the entry test. I was surprised when I got in.
"But you don't need to know too much before you go, just be excited about learning and try to not worry about failing. That culture of trusting your gut is very important. Do not be afraid to fail; put yourself out there," advises Hu, "and go for it."
Please go to Historical Information – National Finals – Profiles of Past Competitors to read more student stories about their NSB experiences.
The Office of Science is the single largest supporter of basic energy research in the physical sciences in the United States and is working to address some of the most pressing challenges of our time. For more information please visit http://science.energy.gov.
Sandra Allen McLean is a Communications Specialist in the Office of Science, sandra.mclean@science.doe.gov.