Champions in Science, Whose Stars Are Still Rising: Profile of George Vardaxis, National Science Bowl

Enlarge Photo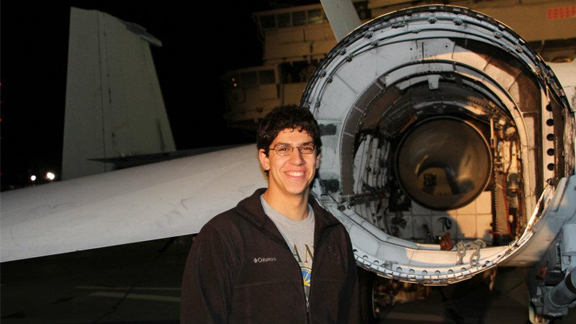 Photo courtesy of Iowa State University's College of Engineering
George Vardaxis remembers his two years as a member on the National Science Bowl team for Johnston High School in Johnston, Iowa. "The tournaments were pretty competitive. There were some really strong teams so that the difference in a game was only a couple points and who answered the final question would end up the winner," he recalled.
"Science Bowl is a very humbling experience … the difficulty of the questions tests your knowledge, to the point that you feel good when you get a question right and perplexed when you don't get one that you feel you should have known," Vardaxis said. "Our team always knew in the back of our minds that regardless of the outcome, this competition was for fun. So, try as we would [to win], we made sure to be good sports and try to enjoy ourselves."
After high school, Vardaxis entered college to study aerospace engineering. Throughout his eight years at Iowa State University (ISU) as an undergrad and a graduate student, Vardaxis has helped to run the local Science Bowl competition at the Ames Laboratory Regional tournament.
"I would absolutely recommend it to today's students. I would tell them that it is a great opportunity for self-evaluation, and to see how well you know your stuff. It is an opportunity to get some extra motivation for your studies and possibly even help you find the subject matter that you are strongest in and have a passion to pursue, before you get to college." Vardaxis has found his passion, completing his undergraduate education with a double major, aerospace engineering and mathematics. Currently, he is a graduate research assistant in ISU's College of Engineering Asteroid Deflection Research Center, working on mission design and planning the planet's defense by assessing the impact risk of asteroids approaching Earth.
"My participation as a volunteer has meant a lot to me," said Vardaxis. "I look forward to NSB every year because it is just another small thing that I can do to give back to an event that I enjoyed competing in and to organizations – Iowa State University and DOE – that are doing a great thing for the community and the state of Iowa." After he completes his Ph.D. in May, Vardaxis is looking ahead to work in planetary exploration or impact risk assessment such as NASA's Asteroid Redirect Mission. "It's going to be tough to not be participating in the NSB at Iowa State next year, but I will find a way to help out with NSB wherever I end up."
Please go to Historical Information – National Finals – Profiles of Past Competitors to read more student stories about their NSB experiences.
The Office of Science is the single largest supporter of basic research in the physical sciences in the United States and is working to address some of the most pressing challenges of our time. For more information please visit http://science.energy.gov.
Sandra Allen McLean is a Communications Specialist in the Office of Science, sandra.mclean@science.doe.gov.