Happy Birthday, NERSC
Enlarge Photo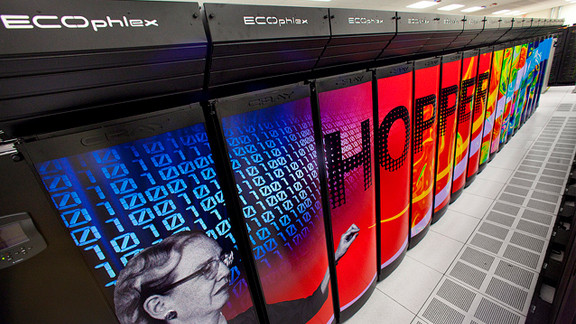 Image courtesy of Lawrence Berkeley National Lab
Birthdays are a time for celebrations, and a milestone like turning 40 years old deserves a special party. NERSC, the National Energy Research Scientific Computing Center and home to the Cray XC30 supercomputer "Edison," recently celebrated its 40 years of accomplishments by inviting four Nobel Laureates to speak on their research and the role that computers have played in their work.
John Kuriyan, professor of chemistry and Chancellor's Professor at the University of California, Berkeley, presented for Martin Karpius, who was awarded the 2013 Nobel Prize in Chemistry for the development of multi-scale models for complex computer systems. In his talk, Kuriyan described computer simulations of proteins showing their structure, binding, and channel dynamics. Using sophisticated algorithms and the capabilities of high performance computers like Edison, researchers are now able to predict the structure of unknown proteins. Those capabilities may eventually lead to many other benefits, such as the speedier development of new medicines.
As a member of the Intergovernmental Panel on Climate Change, Warren Washington was honored with the Nobel Peace Prize in 2007. Washington, chief scientist of the U.S. Department of Energy Climate Change Research Section of the U.S. National Center for Atmospheric Research (NCAR), spoke on the history and the future of climate modeling. He shared a story of the early days at NCAR when a single day's weather forecast required a full day of calculation. He emphasized that the ever-increasing resolution and sophistication of climate models – which are enabled by the power of high performance computers – allow us to better understand both present and future climate changes.
George Smoot won the 2006 Nobel Prize in Physics for work on cosmic microwave background radiation (CMB) that validated the Big Bang theory on the origins of the universe. Smoot, astrophysicist and senior scientist at LBNL, presented a timeline of photos and graphs showing the CMB research progression over 20 years, as technology improved from strip charts to punch cards to supercomputer modeling.
Enlarge Photo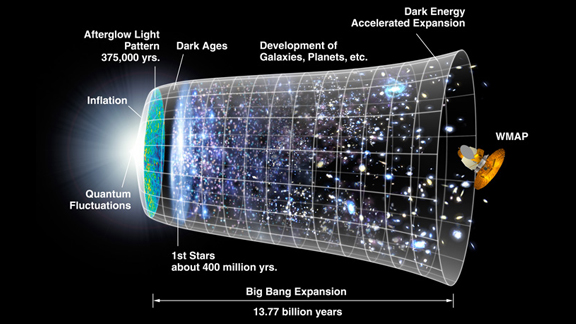 Image courtesy of NASA/WMAP Science Team
In the concluding lecture, astrophysicist Saul Perlmutter of LBNL described measuring the distances of the expanding universe by analyzing the peak brightness of supernovae explosions. Perlmutter, winner of the 2011 Nobel Prize in Physics, relied – and still relies – on supercomputer-based simulations to compare with supernovae observations in near real-time analysis. These allow us to better understand how the story of the universe is unfolding over time.
These lectures, on topics ranging from climate models to the origins of the Universe, were presented at Lawrence Berkeley National Laboratory, which is stewarded by the Department of Energy's Office of Science, and are now available here. Told with zeal and humor, these four stories gave insight into the award-winning accomplishments enabled by NERSC, a DOE Office of Science user facility. Now, that's the way to throw a party.
The Department's Office of Science is the single largest supporter of basic research in the physical sciences in the United States and is working to address some of the most pressing challenges of our time. For more information please visit http://science.energy.gov/about. For more information about Berkeley Lab, please go to: http://www.lbl.gov/.
Sandra Allen McLean is an intern at the Office of Science, Sandra.McLean@science.doe.gov