Forewarned and Fore-ARM-ed Against Climate Changes and Challenges
Enlarge Photo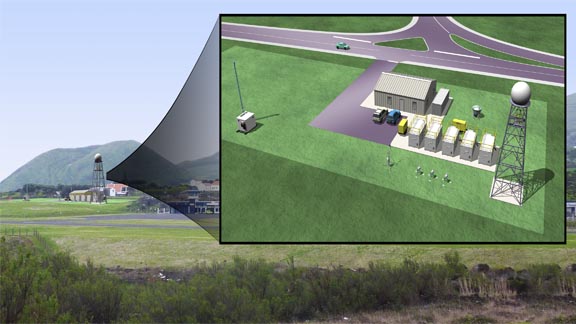 Image courtesy of ARM Climate Research Facility
Fall is a favorite season, and for good reason. Sticky, sweaty days give way to crisp, cool nights, perfect for sleeping and making plans for the holidays ahead. (Though please have mercy and let us get through Halloween before playing any Christmas music.)
Yet for all their autumnal virtue, those seasonal changes also bring challenges and uncertainties. That's also true of other changes in climate and clime. And that's why the Office of Science's Atmospheric Radiation Measurement (ARM) Climate Research Facility will soon start collecting data at two new sites, one in Oliktok, Alaska, and the other in the Azores.
ARM is "The world's premiere ground-based observations facility advancing climate change research." It's designed to study the effects that clouds and aerosols – tiny particles like soot and dust – have on weather and climate, thereby hopefully reducing the major uncertainties of climate models. And it does so through several fixed and mobile sites, which are filled with dozens of sophisticated instruments.
ARM's three mobile facilities can be deployed practically anywhere on the globe for typical tours of six months to two years. Its newest mobile facility was recently set up in Oliktok Point, Alaska, and on October 1st, it will officially begin taking data for an extended deployment of up to five years. (Some data actually started flowing a bit earlier, on this past September 12th.)
Located on the Arctic Ocean about 200 miles (300 kilometers) to the southeast of Barrow, Oliktok Point seems an unlikely, or at least an unseasonable, spot for studying climate. Barrow is the furthest North American city, with average October temperatures ranging from highs of 22 degrees Fahrenheit to lows of around 13 degrees, and Oliktok Point isn't any warmer.
However, that isolation also means that ARM scientists can run many operations and make many observations. In addition to gathering data from the Point from about two dozen instruments, ARM operators will also fly manned and unmanned aircraft over the sea ice, drop instrument probes and send up tethered balloons. That combination of observations will hopefully give scientists a better sense of why the Artic sea ice has been fluctuating in fairly dramatic fashion over recent years.
Enlarge Photo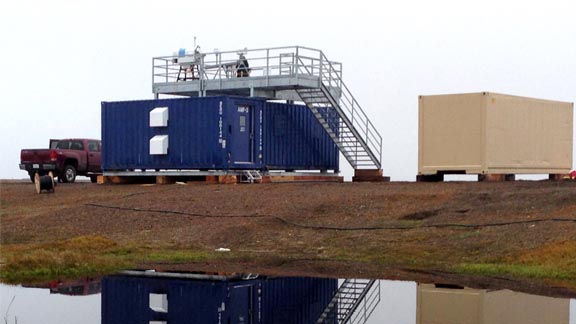 Photo courtesy of ARM Climate Research Facility
Rather more temperate conditions are expected at the new ARM fixed site in the Azores, which will also start taking data on October 1st. But that site also offers a combination of conditions suited for wringing out uncertainties in climate projections.
Specifically, the Azores are located in an ocean region which sees a significant number of low-lying, marine stratocumulus clouds. Those clouds are located at the marine boundary layer, which in a sense is where the ocean meets the sky, where heat and evaporating water rising off the ocean run into the air flowing freely through the atmosphere. It's a place where things change, and as a consequence, where uncertainties abound.
One great uncertainty is how marine stratocumulus clouds respond to aerosols and changes in atmospheric greenhouse gases, such as carbon dioxide. So data from the new ARM site in the Azores will help scientists reduce those uncertainties, and therefore improve global climate models.
Changes will always bring challenges. But thanks to ARM, science colleagues across the Office of Science and around the globe are learning more about our changing climate and improving our ability to adapt to its challenges.
The Department's Office of Science is the single largest supporter of basic research in the physical sciences in the United States and is working to address some of the most pressing challenges of our time. For more information please visit http://science.energy.gov/about. For more information about ARM, please go to: http://www.arm.gov/.
Charles Rousseaux is a Senior Writer in the Office of Science, Charles.rousseaux@doe.science.gov.