Sixty-Five Years of Listening, Learning and Strengthening
Enlarge Photo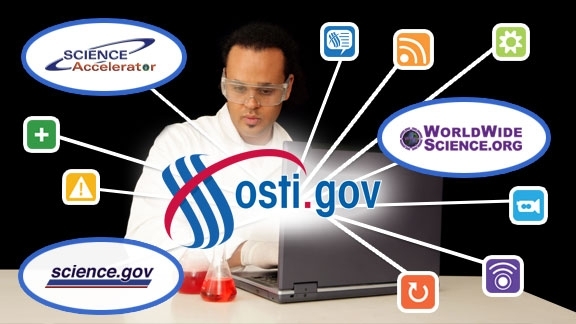 Image courtesy of OSTI
You're going to learn a few things if you sit down and listen to scientists. That's especially true if you listen to them for sixty-five years!
In a real sense, that's what OSTI, the Office of Scientific and Technical Information within the Department of Energy's (DOE's) Office of Science has been doing for the past six-and-a-half decades. Founded in 1947, OSTI believes that "Science progresses only if knowledge is shared," and adds a corollary: "Accelerating the sharing of scientific knowledge accelerates the advancement of science."
OSTI does both, beginning by collecting R&D results. And there are lots of results to collect. After all, DOE has some 17 National Laboratories, ten of which are stewarded by the Office of Science. And the Office of Science alone supports research at more than 300 universities and institutions of learning nationwide. So from its facility in Oak Ridge, Tennessee, OSTI works with DOE's Labs, field offices, and headquarters to collect scientific and technical information.
But OSTI is about far more than listening and collecting, it's about learning. It's about taking in all the information from labs and facilities and seminars and speeches, and turning it into something that researchers and students and scientist-interested citizens can access with ease.
To that end, OSTI incorporates all the information it gathers into a series of different databases, which are available and usable for anyone who wants to tap into them. They include:
OSTI developed and hosts Science.gov, which offers searchable science "on the go" through its mobile web app, m.science.gov. Government Computing News recently named the app one of the top ten best by federal agencies noting, "Billed as a tool to help kids with homework, it's actually a surprisingly powerful search engine that checks science data from 12 federal agencies going back to 1990. So if you have a science-related question, there is a good chance that someone in government has asked the same thing at some point, and probably commissioned a study to get the answer."
That's OSTI at its best, what it's been doing for sixty-five years: Listening to our scientists, informing our citizens and strengthening our nation.
The Department's Office of Science is the single largest supporter of basic research in the physical sciences in the United States and is working to address some of the most pressing challenges of our time. For more information about OSTI, please go to: http://www.osti.gov/.
Charles Rousseaux is a Senior Writer in the Office of Science.