A Potent Pollutant and a Pedestrian Protein
Enlarge Photo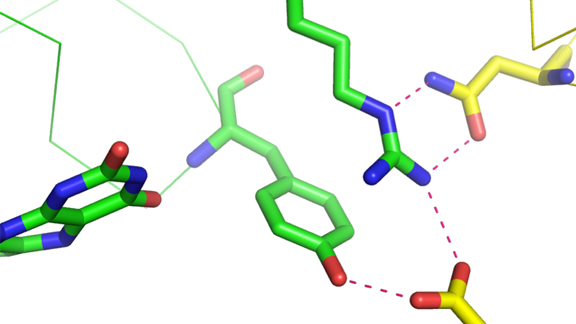 Brookhaven National Laboratory
Even when potent pollutants become famous, pedestrian proteins can still steal the show.
That's true for the chemical hexavalent chromium, a metal that gained fame, or at least notoriety, thanks to Erin Brockovich. However, it might be upstaged by a protein thanks to the incredible spotlight at the Office of Science's Brookhaven National Lab (Brookhaven).
Hexavalent chromium (also called Chromate VI) is a carcinogen as well as a potent pollutant; a frequent byproduct of industrial processes. Chromate VI had its moment in the spotlight when Erin Brockovich discovered that a company (Pacific Gas and Electric) was leaking the chemical into the groundwater of Hinkley, California. She pressed her case in court, won a significant legal settlement and saw herself played by Julia Roberts in a movie.
Chromate VI can be transformed into the benign form of Chromate III. However, the reaction is tough to do. Instead, the metal typically switches (or transfers electrons) back and forth between two toxic forms, Chromate VI and Chromate V.
However, scientists at Stanford University discovered one protein — a cellular machine that often enables chemical reactions — could make the difficult detoxifying reaction happen in a single easy step. So they modified it to make it even better at the reaction, and then turned it over to a team led by Subramaniam Eswaramoorthy, a structural biologist at Brookhaven Lab, to determine why it worked so well. He turned to the lab's brightest light, its National Synchrotron Light Source (NSLS), to study the structure of the protein in atomic level detail.
The NSLS uses infrared, ultraviolet and X-ray light to reveal incredibly small details of objects, down to the level of individual atoms. Scientists have used it to study everything from the crystal structure of high-temperature superconductors to the chemical composition of bones.
Dr. Eswaramoorthy's team found a surprise when they shined the light on the protein. Typically, proteins enable chemical reactions from a single, active site. However, Brookhaven's scientists found that the high performance of the protein probably wasn't due to changes at its active site. Rather, it was due to the protein's increased number of hydrogen bonds.
Hydrogen bonds have a powerful attractive force that can pull different parts of a protein together, or hold molecules together more tightly than one would expect. Water is packed full of them, which is one reason that it has a relatively high boiling point and why water droplets hold together as, well, droplets.
The extra hydrogen bonds in the modified protein seem to give it more stability, which helps enable the detoxifying reaction. It might also allow more space for Chromate VI to enter the active site, making for a faster turnover into Chromate III.
While the exact molecular mechanism is still uncertain, the likely benefits are not. Understanding the surprising structure of the protein brings it closer to being used to clean up sites polluted with Chromate VI.
Will a pedestrian protein steal the spotlight from a potent pollutant? Here's hoping so. And it could happen, thanks to shining research and the brilliant lights at Brookhaven Lab and the Office of Science.
The Department's Office of Science is the single largest supporter of basic research in the physical sciences in the United States, and is working to address some of the most pressing challenges of our time. For more information about Brookhaven National Lab, please go to: http://www.bnl.gov/world/.
Charles Rousseaux is a Senior Writer in the Office of Science.