Boulevard of an Accelerated Future
Sweet tastes combined with cool science at the Annual Meeting of the American Association for the Advancement of Science in Washington D.C. this past weekend (Feb. 17th to Monday Feb. 21st).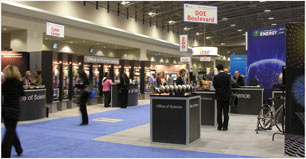 As those who took a walk down DOE Boulevard – which was located in the heart of the Exhibit Hall – could attest, the dedicated booths by the Office of Science and its National Labs and Research Centers offered something for every interest and taste.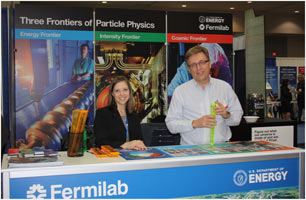 There were detailed displays on everything from the Frontiers of Particle Physics at Fermilab to Rare-earth research at Ames Laboratory, as well as friendly staffers to explain the science and pass out keepsakes. There were also hands-on exhibits such as a superconducting cavity used at Jefferson Lab's Continuous Electron Beam Accelerator Facility. Perhaps best of all, there were the sweet delights of instantly-frozen ice cream during a walking reception on Friday afternoon.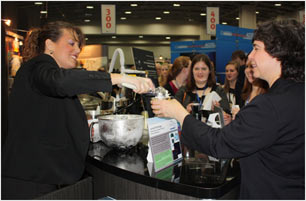 But there was more to the displays on than smiles from satisfied sweet-tooths. After all, the Department of Energy's (DOE's) Office of Science supports over 27,000 Ph.D.s, graduate students, undergraduates, engineers, and support staff at more than 300 institutions. It also provides 45 percent of Federal support for research in the physical sciences, and stewards 10 world-class laboratories.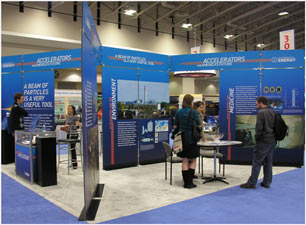 The displays on DOE Boulevard illustrated those efforts of Office of Science researchers. Every day, they're developing discoveries and innovations that bring benefits in energy, the environment and the economy at large. Using particle accelerators and plasma, the ultra-fast and the ultra-small, they're making progress in ways that strengthen our nation and speed our future.
That's something to bring a smile to us all . . . even if we missed the instant ice cream.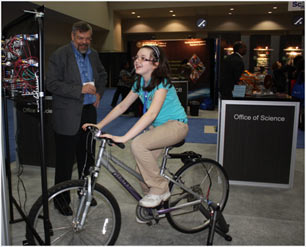 For more information on the DOE Office of Science, please go to: http://www.science.energy.gov/.
Charles Rousseaux is a Senior Writer in the Office of Science