Deputy Director Biography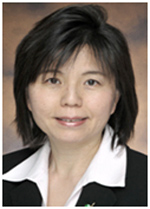 Dr. Harriet Kung
Deputy Director for Science Programs
Office of Science
U.S. Department of Energy
Dr. Harriet Kung is the Deputy Director for Science Programs in the Office of Science (SC) at the U.S. Department of Energy (DOE). The SC mission is to deliver the scientific discoveries and major scientific tools that transform our understanding of nature and advance the energy, economic, and national security of the United States. SC accomplishes its mission and advances national goals by supporting the frontiers of basic research, the world's largest suite of major scientific user facilities, and science for energy and the environment.
As Deputy Director for Science Programs, Dr. Kung is the senior career official providing scientific and management direction and oversight for the SC research programs, including Advanced Scientific Computing Research, Basic Energy Sciences, Biological and Environmental Research, Fusion Energy Sciences, High Energy Physics, and Nuclear Physics. Dr. Kung also provides management direction and oversight of the Offices of Science Communications and Public Affairs, Scientific and Technical Information, Workforce Development for Teachers and Scientists, and Grants and Contracts Support.
Dr. Kung served as the SC Associate Director of Science for Basic Energy Sciences (BES) from June 2008 to April 2020 and as the Materials Sciences and Engineering (MSE) Division Director in BES from 2004 to 2008. During her tenure in BES, Dr. Kung led a number of strategic planning activities to define scientific research directions for science-to-technology pathways and was instrumental in the success of interagency collaborations, DOE research integration efforts, and international coordination activities. Under her leadership, BES pursued new funding modalities in advancing the science for the energy research agenda, including the establishment of Energy Frontier Research Centers and two Energy Innovation Hubs, and successfully delivered nearly $2 billion of construction projects within the designed scope on time and budget.
Before joining DOE in 2002 as a program manager in MSE, Dr. Kung was a technical staff member and a project leader at Los Alamos National Laboratory. Her research focused primarily on nanoscale materials and high temperature superconductivity. She has published approximately 100 refereed papers and has given over 50 invited technical presentations.
Dr. Kung received her Ph.D. in Materials Science and Engineering with a minor in Applied and Engineering Physics from Cornell University. She is the recipient of numerous awards including the DOE Distinguished Postdoctoral Fellowship award, several performance and leadership service awards at LANL, and the Presidential Meritorious Executive Rank Award in 2009.
Contact Information
Dr. Harriet Kung
Deputy Director for Science Programs
SC-3 Germantown Building
U.S. Department of Energy
1000 Independence Avenue, SW
Washington, DC 20585-1290
Phone: 301-903-9369
harriet.kung@science.doe.gov