Tutorial 10:
Where can I receive proposal preparation assistance?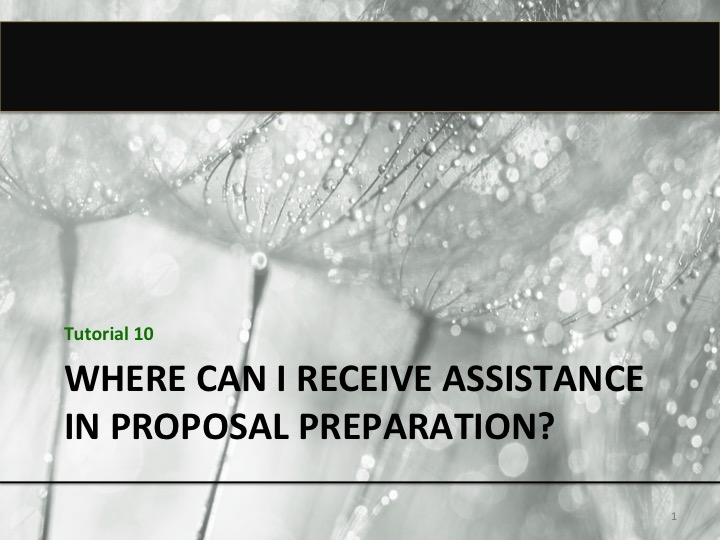 ---
Preparing to write a Phase I SBIR or STTR proposal can be a daunting task for a small business, especially if this is the first attempt. As discussed in previous tutorials, there are many steps involved in preparing an SBIR or STTR application to submit to the Department of Energy. Here's a partial list of recurring hurdles:
---
---
Starting the preparation of the application package early enough.
Navigating the numerous registrations such as PAMS, SAM, grants.gov, etc.
Properly assessing the market need for a solution and developing an appropriate commercialization strategy.
Assembling a winning team that will succeed at both the technical and commercial aspects of the proposal.
Building relationships with potential strategic partners, customers, or investors.
Understanding how to develop a budget and appropriately calculating indirect rates.
Translating an innovative solution into a compelling work plan.
To overcome these hurdles, small businesses often need one or more forms of assistance in order to help them win their first Phase I SBIR or STTR award. This early assistance at the proposal preparation stage is referred to as Phase 0. Phase 0 assistance can take several different forms and is offered by many different types of organizations. The assistance provided during Phase 0 can include:
---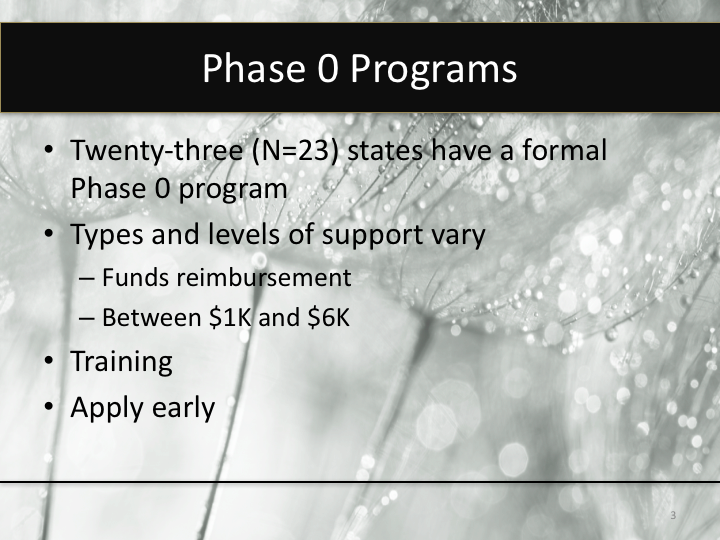 ---
Advice on how to properly budget time and tackle the tasks involved with proposal preparation
Guidance on required registrations
Information on the total addressable market size, and on potential customers and competitors.
Mentoring on how to assemble a team and build strategic relationships.
Assistance in developing a budget and calculating indirect rates.
Feedback on the proposal narrative to help strengthen the delivery of your application and make your submission more competitive.
Let's consider how a small business would go about finding Phase 0 assistance to aid in the preparation of their Phase I SBIR or STTR application to the Department of Energy. Recognizing the importance of Phase 0 assistance, many states have made concerted efforts to provide support. Be sure to see the Links tool which clarifies which states offer formal SBIR/STTR proposal preparation assistance. This table can be downloaded under the Tools section of this Tutorial. This tool is organized by state and clarifies if SBIR/STTR proposal assistance is available, the provider organization, the type(s) of assistance provided, and a link to the organization's website.
Of the 50 states and two territories (DC and Puerto Rico), 44 provide some level of SBIR or STTR assistance. Twenty-three states have a formal Phase 0 program, while 21 states provide other kinds of assistance aimed at companies interesting in the Small Business Innovation Research (SBIR) and Small Business Technology Transfer (STTR) programs.
The state-level organizations that provide assistance include: Small Business Development Centers (SBDC), Small Business Technology Development Centers (SBTDC), Experimental Program to Stimulate Competitive Research (EPSCoR), Departments of Economic Development, various innovation or technology centers, and universities. For universities, the relevant department can be the Technology Transfer Office, the Research and Economic Development Office, an incubator, or an innovation center.
A number of state organizations have partnered with the Department of Energy's SBIR/STTR Phase 0 Assistance program and are listed on the DOE Phase 0 website. If you reside in one of these states then we would recommend these organizations as a good first contact.
If your state is not listed and you wish to conduct your own search for assistance in preparing your SBIR/STTR Phase I proposal, the following key words are suggested. In addition to your state or region, try combinations of Phase 0, Phase zero, SBIR, SBIR support, and SBIR service. Contacting your local Small Business Development Center or economic development office, or your local university technology transfer office can also be a good first step in identifying sources of assistance.
The goal of the Department of Energy SBIR/STTR Phase 0 program is to increase the number of responsive, high quality proposals submitted to the DOE within targeted states with historically low SBIR/STTR submissions to the Department of Energy, and amongst women- and minority-owned businesses nationally.
Eligible parties may receive one or more specialized services following an initial assessment by a member of the Dawnbreaker team. The services include:
Letter of Intent (LOI) writing assistance
Phase I proposal preparation, review and submission assistance
Small business development training and mentoring
Communication and Market Research Assistance
Technology advice and consultation
Intellectual property consultation
Indirect rate and financial information assistance
Other direct cost assistance
The DOE Phase 0 program also provides education and training in the form of this Online Tutorial, as well as webinars on topics pertinent to the application process.
As every provider has budgetary constraints that limit how much service it can provide, the goal of the partnership component of the DOE Phase 0 program is to complement and leverage assistance offered by state organizations.
---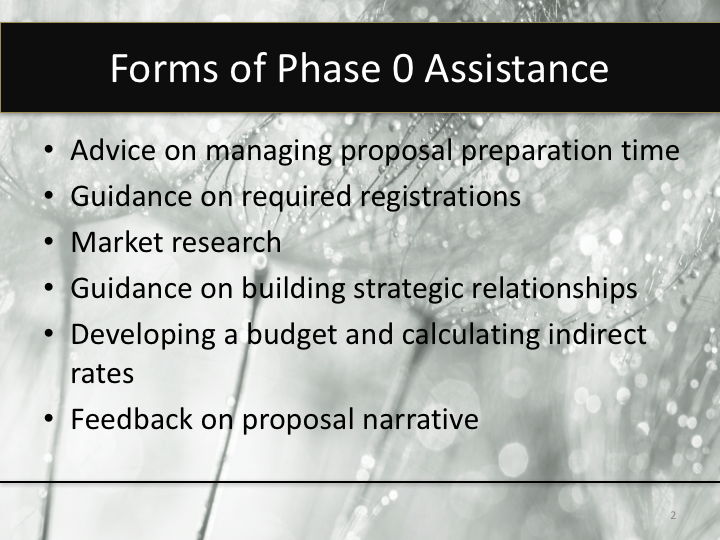 ---
The types and levels of support offered by state-level organizations vary considerably. Some states, such as District of Columbia, Idaho, Louisiana, Maine, Nebraska, North Dakota, Puerto Rico, Rhode Island, and South Carolina only provide support in the form of funds to reimburse eligible expenses incurred by the SBC in the preparation of a federal Phase I proposal. These eligible expenses can include such things as hiring grant writers, subject matter experts, other consultants, or purchasing market research reports needed to inform your proposal. The amounts offered vary from $1,000 up to $6,000, with $1,500 to $3,000 being the most common range. It is advised that to find out more about these opportunities that you contact the relevant organization directly to determine which expenses they consider to be eligible.
---
---
Other states provide services in addition to or instead of funds. These services can include personalized counseling, aid in identifying relevant agencies and topics, assistance with registration, review of the proposal, technical review of the innovation, market intelligence, cost proposal and budget assistance, commercialization assistance, assistance with identifying strategic partners, and coaching on licensing and IP issues. The level and combination of services is varied depending on the state. Again, you are referred to the Links in the Tools section of this tutorial for details on what might be available in your state.
Training and education are also provided by some of the state-level organizations. For example, the Advanced Technology Development Center (ATDC) at Georgia Tech hosts frequent SBIR classes and workshops. In North Carolina, periodic SBIR/STTR workshops are held across the state, as well as hosting webinars and providing online SBIR/STTR training.
If the assistance being provided includes or consists of funding, then be aware that this will be a competitive process for a limited pool of funds. Once you decide that it is appropriate to pursue an SBIR/STTR opportunity from the Department of Energy, the relevant state organization should be contacted to initiate its application process for local funding assistance.
For state assistance that does not include funding, applying earlier rather than later would still be the wiser course of action. Most state organizations request applications for assistance to be submitted at least 6 to 8 weeks prior to the SBIR/STTR proposal submission deadline. The counselors and reviewers will need the time to advise the SBC, find relevant information, and review drafts of the proposal. It is also in the SBC's best interest to obtain guidance and information as early as possible in the process to help in shaping a strong and competitive proposal.
Quiz:

Tutorial 10: Where can I receive proposal preparation assistance?
Your Score:
Your Ranking:
DOE Phase 0