Powell Middle School - Wyoming Regional Middle School Science Bowl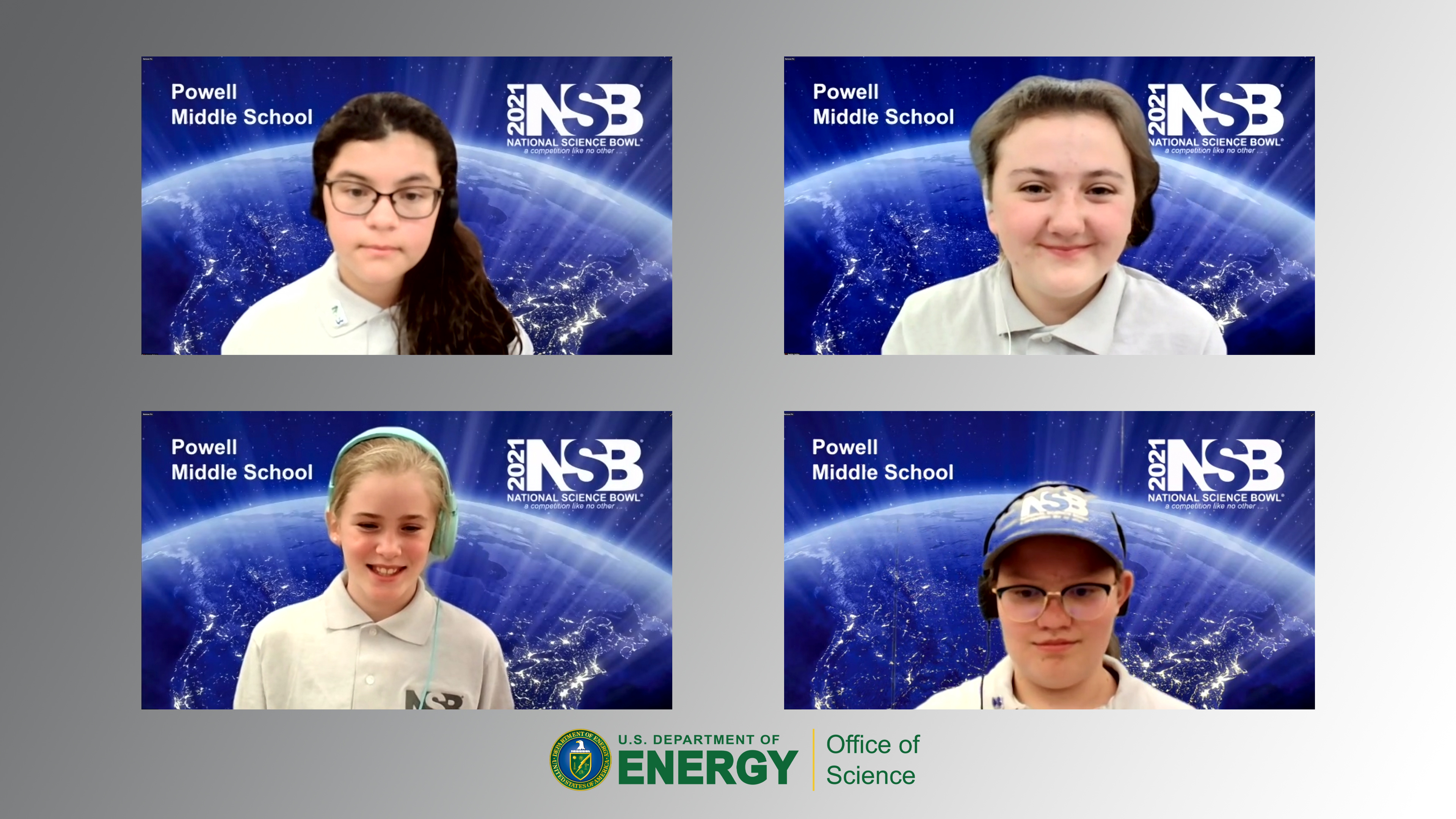 Coach Necole Hanks has been teaching science at Powell Middle School for the past fourteen years. She coaches Science Bowl, Science Olympiad, Science Fair, facilitates Girls Who Code, and sponsors the Environmental Action club. She was a 2018 awardee of the Presidential Award for Excellence in Math and Science Teaching and 2018 Park County School District #1 Teacher of the Year. She has a Master of Arts degree in secondary teacher education, a Bachelor of Science degree in microbiology, and an Associate of Science degree in biology/ecology. She is currently working on a Master of Science degree in middle level math, a computer science endorsement, and an instructional technology endorsement. She serves as the secretary for both the Wyoming Science Teachers Association and American Association of University Women. She is a member of the Powell Education Association, Wyoming Education Association, National Education Association, National Science Teachers Association, and American Chemical Society. She enjoys spending time with her husband and two daughters.
Coach Zac Opps is a computer science, robotics, and engineering teacher at Powell Middle School. He has taught formally for 18 years and thrives on witnessing students discover the joy in problem-solving. Coach Opps takes pleasure in grappling with things he doesn't understand, asking questions, and wearing unfashionable clothing.
Isabelle Lobingier is an eighth -grade student at Powell Middle School in Wyoming. She has been involved in Science Bowl for two years. Some other activities that she participates in are high school and middle school robotics, MATHCOUNTS, and Breakfast Club. Breakfast Club is a club that raises money to help the community and to welcome new students to Powell Middle School. The Breakfast Club's most recent community service project was when they raised almost $1,000 that they donated to Loaves and Fishes for the holiday season. Isabelle's goal is to become an engineer. She has a passion for math and science in her everyday life. She has many hobbies and interests like crafting, drawing, camping, playing games, fishing, and has an interest in animals. She volunteered at her local animal shelter. Isabelle also loves to travel and explore new places.
Jenessa Polson, an eighth-grade student at Powell Middle School, is in several extracurricular activities. She is in Breakfast Club which is a club that tries to help reduce bullying and make the school a better place. She is also on the robotics team and with her love of reading and wonderful teammates, competed and won first place in Challenge of the Books. In the eighth-grade band, she plays flute and is the best in eighth grade. With the support of her bandmates, they perform at many concerts and excel at each one. She loves almost all school subjects, but her favorite one is science. For her future she sees herself going to college and a career of radiology or anesthesiology. Jenessa is in a taekwondo class and is approaching a red belt. She loves chocolate, reading, and cooking. She also loves writing, animals, and crafty activities. She and others view her as a hard worker who always enjoys helping others.
Curtis Muecke is a seventh-grade student at Powell Middle School. He lives out of town with his sister and brother. He is highly active in his school community. He participates in band and jazz band; he is second chair clarinet; in Challenge of the Books his team won; in MATHCOUNTS he took ninth in the chapter competition. In Science Olympiad he and
fellow Olympiad, Elias Brower, worked together on Circuit lab and Ping-Pong Parachute. In Science Bowl his team took first in the state of Wyoming. He has a GPA of 3.95. He plans on becoming a physical therapist and attending South Dakota University in math and medical sciences. He believes that working hard is the best thing to do if you want to make it in life. His teachers always seem to enjoy him. Curtis has the highest record for the Wyoming Test of Proficiency and progress Literature portion. Curtis would like to thank you for supporting the Science Bowl.
Cambree Dicks is a sixth-grade student at Powell Middle School. She likes coding and is a part of the club Girls Who Code. Her favorite activity is cheer. She is also a part of the chess club at Powell Middle School. Her favorite subjects in school are band, science, and math. Cambree's future plans for college are getting a teacher's degree in math. Some interesting facts about Cambree are that she had the best ready-to-wear in 4-H in her first year in this new category.
Madisynn Valdez is a sixth-grade student at Powell Middle School who likes to play basketball, and spend time with family and friends. Her favorite subjects are math and science. She is interested in cosmetology, and plans to go to college in Casper, WY, to study it. She has four goats, many chickens, and a rabbit. She has two siblings, one is a senior in high school, and the other is a sophomore in high school. She loves to go outdoors, and go hiking.