Events, Presentations, Webinars, & Resources
Jump to:
---
Events, Presentations, & Webinars
2020
Office of Science, Office of Workforce Development for Teachers and Scientists (WDTS) Annual Report
2019
Event – Virtual Career FairOctober 24, 2019 12-3 p.m. Eastern Time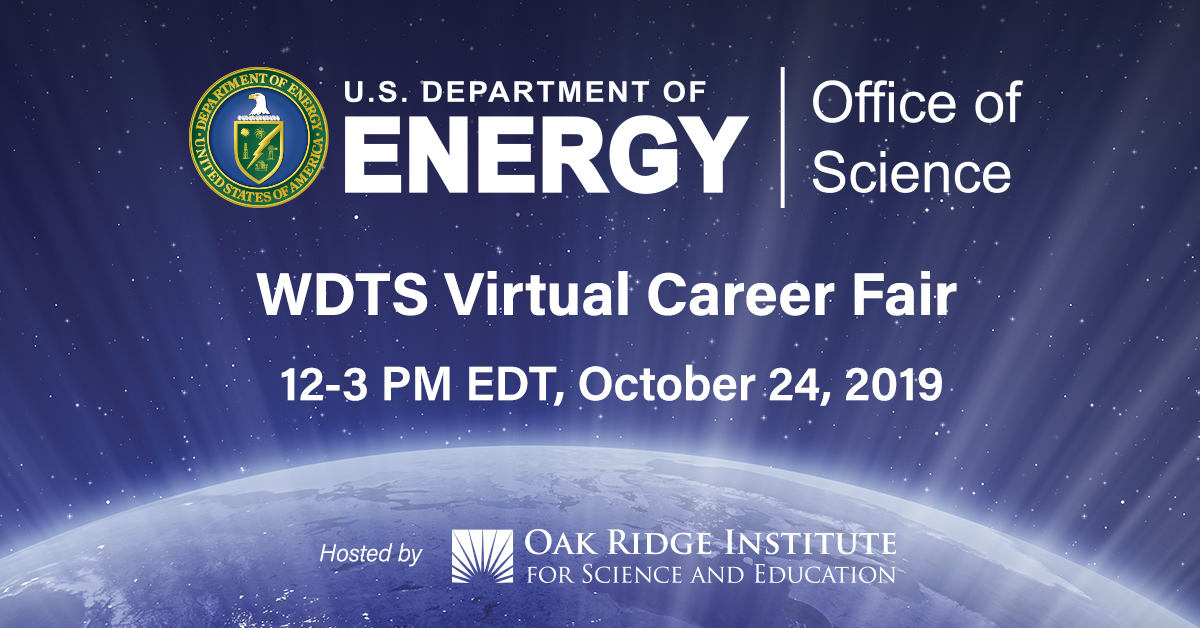 The U.S. Department of Energy (DOE), Office of Science, Office of Workforce Development for Teachers and Scientists (WDTS) Virtual Career Fair is your chance to explore opportunities to participate in the Science Undergraduate Laboratory Internships (SULI) program and the Community College Internships (CCI) program at DOE labs and facilities across the country. During the event you can chat with recruiters, scientists, and researchers; explore information about each lab/facility; and learn more about the SULI and CCI experience. Undergraduates and recent graduates are welcome to participate. Click hereto register.
2016
Webinar – "Preparing a Competitive Application Package for Graduate Support: DOE Office of Science Graduate Student Research (SCGSR) Program"
12/15/16 – Office of Science delivered webinar, hosted by the Louis Stokes Midwest Center of Excellence, on opportunities for STEM graduate students and resources to help enhance graduate support.
2013
Webinar - "Albert Einstein Distinguished Educator Fellowship Program Overview"
11/14/13 - Webinar hosted by the Office of Science for STEM K – 12 educators.
Back to Top
---
Laboratory Equipment Donation Program (LEDP)
The Laboratory Equipment Donation Program (LEDP) provides excess laboratory equipment to full-time faculty at accredited, postsecondary, non-profit degree granting institutions including universities, colleges, community colleges, or junior colleges, located in the U.S. and interested in establishing or upgrading energy-oriented science, technology, engineering, or mathematics (STEM) educational programs. An energy-oriented program is defined as an academic education or research activity dealing primarily or entirely in energy-related topics.
The LEDP application site for available equipment has been migrated to https://apps.orau.gov/ledp/. This site also provides access to the catalog of available equipment.

Through LEDP, colleges and universities can search for available equipment of interest and apply via the LEDP online application system. The equipment is free, but the receiving institution pays for shipping costs.

The LEDP application site only lists those items that fall within the Federal Supply Group Classification Code 66, Instruments and Laboratory Equipment, providing a list most relevant to energy-related research being conducted in an academic laboratory. Making equipment available through LEDP gives universities/colleges access to the available equipment list after there are no internal claims by DOE sites, but 30 days before the equipment is more broadly available through GSAxcess. Hence, the LEDP catalog of available equipment has a 30-day rolling exclusivity.