Joseph M. Groves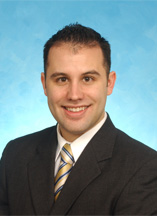 Joseph M. Groves
Visual Information Specialist
Office of the Deputy Director for Science Programs
SC-2/Germantown Building, Room H-210
U.S. Department of Energy
1000 Independence Avenue, SW
Washington, D.C. 20585-1290
Email: joseph.groves@science.doe.gov
Phone: 301-903-6155
Fax: 301-903-7780
Primary work location: Germantown, MD
Joey Groves joined the Office of the Deputy Director for Science Programs as Visual Information Specialist in May 2009. His responsibilities include website coordination and a broad range of presentation and publication design activities.
Joey previously served as the Manager of Advanced Media in the Office of the Dean of the School of Medicine at West Virginia University (WVU) and the Manager of Web Services for the WVU Health Sciences Center. A few of his many WVU accomplishments include designing an award-winning school of medicine annual report; managing the redesign of the school of medicine website; planning of visual materials for high-stakes speeches and presentations delivered by deans and department chairs; and building and managing the department of advanced media from the ground up. His other previous experiences include serving as web editor and producer for the American Board for Certification of Teacher Excellence; as multimedia coordinator at the Club Managers Association of America; as an intern at both National Geographic Television Film and Henninger Media Services; and as a designer/help desk support for Blue Water Media.
Joey holds a Bachelor of Arts degree in art & technology with a minor in computer science from Allegheny College in Meadville, Pennsylvania.