Pennsylvania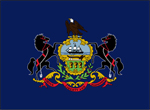 Company:
Advanced Cooling Technologies, Inc.
1046 New Holland Ave.
Lancaster, PA 17601-5606
Topic:
Advanced Materials and Technologies for Cooling and Waste Heat Recovery
Title:
Nanofluids Enhanced Twisted Tape Heat Exchanger
Summary:
This project will develop a high thermal performance heat exchanger that will be smaller, lighter, and require less energy to be provided to the accompanying pump than conventional heat exchangers. The commercialization of this technology will further create technical jobs and enable expansion into new markets.
---
STTR Project
Company:
Advanced Cooling Technologies, Inc.
1046 New Holland Ave.
Lancaster, PA 17601-5606
Topic:
Advanced Materials and Technologies for Cooling and Waste Heat Recovery
Title:
Stabilization of Nanofluids Using Self Assembled Monolayers
Summary:
This project will develop nanofluids that have the capability of increasing heat transfer efficiency in many current heat exchangers by improving the heat transfer properties inherent to current coolants. Heat transfer is an important part of many energy intensive processes, and more efficient heat transfer leads to more efficient use of fuel.
Back to Top
Back to Map