New Mexico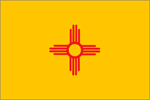 Company:
Deep Web Technologies, LLC
301 N. Guadalupe, Suite 201
Santa Fe, NM 87501-5501
Topic:
Search, Discovery, and Communication of Scientific and Technical Knowledge in Distributed Systems
Title:
An Analysis of the Performance Bottlenecks in the Federated Search Information Flow
Summary:
This project will develop performance improvements on the Phase I project, in which a number of potential bottlenecks in federated search technologies that hinder research in the public and private sectors were assessed.
---
Company:
Southwest Sciences, Inc.
1570 Pacheco Street, Suite E-11
Santa Fe, NM 87505-3993
Topic:
Advanced Coal Research
Title:
NDE of Gas Turbine Thermal Barrier Coatings
Summary:
This project will develop a technology that allows for non-destructive inspection of the thermal barrier coatings applied to power plant and aircraft engine turbine parts. This new technology will provide cost savings and improved operations to the gas turbine industry.
Back to Top
Back to Map