Michigan
MICHIGAN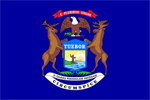 STTR Project
Company:
Niowave, Inc.
1012 North Walnut Street
Lansing, MI 48906-5061
Topic:
Radio Frequency Accelerator Technology for High Energy Accelerators and Colliders
Title:
Development of a 400 MHz Superconducting RF Crabbing Cavity
Summary:
This project will develop a new type of the superconducting deflecting cavity. This accelerator technology can be successfully used for broad applications in both circular as well as linear accelerators of charged particle beams.
---
Company:
Niowave, Inc.
1012 North Walnut Street
Lansing, MI 48906-5061
Topic:
Nuclear Physics Accelerator Technology
Title:
Development of a Tunable 28 MHz Superconducting RF Cavity for RHIC
Summary:
This project will develop a new accelerating system for the Relativistic Heavy Ion Collider at Brookhaven National Lab, using the high fields possible in superconducting RF cavities. This will break new ground for low-frequency, tunable, superconducting RF structures.
---
Company:
OG Technologies, Inc.
4300 Varsity Drive, Suite C
Ann Arbor, MI 48108
Topic:
Energy Savings Technologies for Commodity Manufacturing Industries
Title:
SICS: A Sensor-Based In-Line Control System for the Surfaces of Continuously Cast Slabs
Summary:
This project will develop a new product to improve current continuous casting practices with innovations in the areas of in-line inspection and advanced process control. The expected benefits include energy savings, improved yields, simplified processes, and reduced carbon dioxide release in the steel industry.
Back to Top
Back to Map