Maryland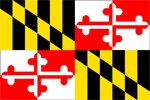 Company:
Acadia Optronics, LLC
1395 Piccard Drive Suite 210
Rockville, MD 20850-4348
Topic:
High Performance Networks
Title:
FPGA-Based End-Station Security for High-Performance Networking
Summary:
This project will develop and deploy a high-performance cyber-security platform designed to significantly enhance the security of next-generation networked computing.
---
STTR Project
Company:
Ionova Technologies, Inc.
182 Thomas Johnson Drive, Suite 204L
Frederick, MD 21702
Topic:
Technologies Related to Energy Storage for Hybrid and Plug-In Hybrid Electric Vehicles
Title:
3-D Nanofilm Asymmetric Ultracapacitor
Summary:
This project will apply advances in nanotechnology to create a new ultracapacitor capable of storing significantly more energy, of scaling to the voltage needs of important new applications and of providing improvements in safety, cost, and environmental impact. This will eliminate the issues of low energy density, cost, and safety concerns that plague current generation ultracapacitors.
---
Company:
LightSpin Technologies, Inc.
4407 Elm Street
Chevy Chase, MD 20815
Topic:
High Energy Physics Detectors
Title:
Radiation Hard GaAs Photomultiplier Chip(TM)
Summary:
This project will develop the world's most sensitive camera, able to withstand bombardment by the world's highest energy particle. This camera will help physicists probe the composition of matter, doctors peer into the body to find cancer early, and security experts to find illicit radioactive materials.
---
Company:
WebLib, LLC
5101 River Road, Apt. 1918
Bethesda, MD 20816-1574
Topic:
Search, Discovery, and Communication of Scientific and Technical Knowledge in Distributed Systems
Title:
A Scalable Distributed Client Based Meta Search and Discovery Infrastructure
Summary:
This project will implement highly scalable and affordable next generation search and discovery capabilities to run inside the web browsers of individual users. This will allow the cost-effective implementation of many desirable Web search applications, such as tapping into the high quality educational content in DOE, NASA, NIH and other government scientific and technical databases for tens of millions of students and teachers in U.S. classrooms without the need for prohibitively costly server farms and network bandwidth.
Back to Top
Back to Map