Pennsylvania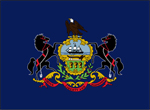 Company:
Advanced Cooling Technologies, Inc.
1046 New Holland Ave.
Lancaster, PA 17601-5606
Title:
Dielectric Printed Circuit Board Planar Thermosyphon
Summary:
A core technology is proposed for improved thermal management of LEDs, currently a critical obstacle in the development of the solid state lighting industry. An innovative approach to circuit board design allows it to also function as a highly conductive heat spreader, significantly improving the thermal management over current methods.
---
Company:
Advanced Cooling Technologies, Inc.
1046 New Holland Ave.
Lancaster, PA 17601-5606
Title:
Syngas Production by Thermochemical Conversion of H2O and CO2 Mixtures Using a Novel Reactor Design
Summary:
This project will use CO2 and H2O in a thermochemical cycle to efficiently produce syngas. The proposed technology (i) does not require coal, methane or other hydrocarbon feedstocks (ii) can operate without catalysts, and (iii) can be expanded for commercial production of fuels such as syngas, methane and other hydrocarbon derivatives.
---
Company:
Advanced Cooling Technologies, Inc.
1046 New Holland Ave.
Lancaster, PA 17601-5606

Title:
Vortex Enhanced Direct Contact Heat Exchanger for Geothermal Cooling
Summary:
This program will develop a vortex based heat exchanger for geothermal based HVAC applications by taking advantage of the earth's constant and low temperature, to cool a building. The device mixes the incoming cold water with the air to be cooled and separates them after the heat exchange has occurred.
---
Company:
Combustion Research and Flow Innovative Technology, Inc.
6210 Kellers Church Road
Pipersville, PA 18947-2010
Title:
Subgrid-Scale Combustion Modeling for Gas Turbines
Summary:
This project will develop an advanced turbulent combustion model to support the development of new fuel-flexible gas turbine technologies. The model will include the physics required to accurately predict gas turbine operations and be efficient enough for engineering design analysis.
---
Company:
KCF Technologies, Inc.
112 West Foster Avenue
State College, PA 16801-4867
Title:
Energy Harvester Powered Wireless Sensors for Extreme Temperature Environments
Summary:
This project will provide an energy harvester powered sensors for high temperature environments. This project addresses a significant opportunity to impact power plant energy consumption and operating cost by enabling wireless sensing at a low cost and in high temperature environments.
---
Company:
Nokomis, Inc.
310 5th St. Windows
Charleroi, PA 15022-1517
Title:
Novel Coating Materials for RF
Summary:
This project will develop an innovative method to improve accelerator efficiency and assist with high-energy physics research. Building upon expertise in RF applications and materials, window materials that allow for greatly improved power handling capability will be developed.
---
Company:
Strategic Polymer Sciences, Inc.
200 Innovation Blvd, Suite 237
State College, PA 16803-6602
Title:
Advanced Film for Capacitors for Power Inverters in Electric Drive Vehicles
Summary:
This company will develop high performance DC bus film capacitors with high energy density, low cost, and high reliability. The advanced capacitors can be used in electric drive vehicles, medical defibrillators, and military pulsed power weapon systems.
---
Company:
Thermacore, Inc.
780 Eden Road
Lancaster, PA 17601-4794
Title:
Vehicle Waste Heat Recovery System
Summary:
Heat sent to the environment as exhaust represents an untapped resource in our nation's energy portfolio. This project will enable energy to be captured from this waste stream and turned into useful electrical energy without moving parts with the added benefit of improving overall fuel efficiency and reducing greenhouse gas emissions.
Back to Top