New York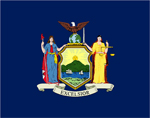 Company:
Dimension Technologies, Inc.
315 Mount Read Boulevard
Rochester, NY 14611-1982
Title:
Autostereoscopic Projection Display for Collaborative Applications
Summary:
This project will investigate and model a desktop display that can produce high resolution 3D images which can be viewed without 3D glasses by groups of scientists viewing complex multi dimensional data sets or simulations. These displays could also be used in conference rooms and eventually in home theater systems.
---
Company:
EPIC Consulting
101 Mountain Ridge Drive
Mount Sinai, NY 11766-1413
Title:
Extend the EPICS Client Metadata Set to Support Arrays, Images, Archive Data and Advanced Directory Services
Summary:
This project will produce a well defined, reviewed, and agreed upon definition of the metadata required for proper handling of several array types enables the development of middle layer servers such as orbit and bump control in accelerators.
---
STTR Project
Company:
Helios-NRG, LLC
12 Yardley Lane
East Amherst, NY 14051-1683
Title:
Advanced Membrane Technology for Helium Recover
Summary:
This project will develop a step change membrane technology which will enable the recovery of helium from vast, but marginal sources which are uneconomic today. This will revive declining U.S. production, maintain U.S. global leadership and ensure reliable supply of this valuable resource for decades to come.
---
Company:
HYPRES, Inc.
175 Clearbrook Rd. #141
Elmsford, NY 10523-1109
Title:
Low-Power Radiation-Hard ADC for Detector Readout
Summary:
A new low-energy digital logic is proposed for efficient readout of sensitive detectors. The benefits cover a wide spectrum ranging from identification of concealed weaponry to understanding of physics governing the universe.
---
Company:
Kitware, Inc.
28 Corporate Drive
Clifton Park, NY 12065-8688
Title:
A Scalable Visual System For Proliferation Analysis
Summary:
This project's work addresses the need for further advancements in tools which effectively combine nuclear proliferation data so information is automatically connected, allowing intuitive navigation, visualization, and collaboration with a scalable, web-based application.
---
Company:
Kitware, Inc.
28 Corporate Drive
Clifton Park, NY 12065-8688
Title:
Web-Based Scientific Collaboratory for Large Data Analysis
Summary:
This project will develop advanced software tools for the visual analysis of large and complex data across collaborating scientific communities. These tools will enable users to better understand and extract important information from data.
---
Company:
MTECH Laboratories, LLC
831 Rte. 67, Bldg. 45C
Ballston Spa, NY 12020-0227
Title:
Efficient High-Voltage IGBT Modules
Summary:
The field of cryogenic power electronics promises improved performance over conventional power conversion equipment, as well as seamless integration with extremely low-loss superconducting cables and equipment. This project will develop reliable and high performance packaging technologies, which are necessary to enable such devices.
---
Company:
MTECH Laboratories, LLC
831 Rte. 67, Bldg. 45C
Ballston Spa, NY 12020-0227
Title:
Novel Switching Devices for Accelerator Modulatros
Summary:
This project addresses very high power switches for accelerators used in high-energy physics research, which seeks to broaden the understanding of fundamental physical properties. This project will develop improved devices using a novel topology and mode of operation.
---
Company:
Reservoir Labs, Inc.
632 Broadway, Suite 803
New York, NY 10012-2614
Title:
Implementation of an Energy-Saving Bro-Aware Load Balancer at 100 Gbps with Closed-Loop Flow Policy Control
Summary:
This project will develop Network Intrusion Detection Systems (NIDS) that will serve an indispensable role in preserving the integrity of computer networks. This project will design and implement a high-performance energy-saving load balancer that can distribute traffic at line rates of 100 Gbps.
---
Company:
Sydor Instruments, LLC
31 Jet View Drive
Rochester, NY 14624-4903
Title:
HERMES-Based X-ray Strip Detector
Summary:
This project will develop a novel microstrip detector to satisfy immediate needs at synchrotron radiation facilities around the world. Advancements will enable new science by providing a means to measure a full-range diffraction pattern in times on the order of one millisecond.
---
Company:
TAM Ceramics LLC
4511 Hyde Park Blvd.
Niagara Falls, NY 14305-1215
Title:
High Temperature Integrated Thermoelectric System and Materials
Summary:
This project will research and develop thermoelectric materials and an integrated system to recover waste heat and to convert it into useful electrical energy. It has economical and environmental benefits to industries such as the automotive, glass, power plant, and other industrial processes where high temperature heat is generated.
---
Company:
Underground Systems, Inc.
84 Business Park Drive, Ste 109
Armonk, NY 10504
Title:
Underground Cable Advanced Diagnostics
Summary:
This project will investigate the design of an advanced diagnostic system that increases the reliability and utilization of the underground transmission system.
---
Company:
United Environment & Energy LLC
111 Ridge Road
Horseheads, NY 14845-1507
Title:
High Value Renewable Chemical Production from CO2 and Biodiesel Plant Byproduct
Summary:
This project will develop an environmentally friendly, cost-effective, energy-efficient, and easy to operate renewable glycerol carbonate production technology from carbon dioxide, which is a greenhouse gas, and glycerol, a biodiesel plant waste.
Back to Top