Connecticut
CONNECTICUT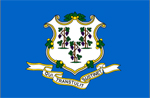 Company:
FuelCell Energy, Inc.
3 Great Pasture Rd.
Danbury, CT 06813-1305
Title:
Thermochemically Integrated Solid State Hydrogen Separator and Compressor
Summary:
This project focuses on the development of a thermally integrated solid-state hydrogen separator and compressor to produce high pressure, high purity hydrogen to meet future hydrogen refueling infrastructure needs.
---
Company:
Omega-p, Inc.
258 Bradley St., 2nd fl.
New Haven, CT 06510-1106
Title:
High Current Cold Cathode Employing Diamond and Related Materials
Summary:
Vacuum electronics devices used to power particle accelerators for discovery science and industrial applications, but also television transmitters and radar tubes, almost always employ thermionic cathodes, having limited current capability and requiring ancillary heating power. This project will develop cold cathodes that appear to offer higher current density, without need for heating power, thus improving device performance with lower operating cost.
---
Company:
Omega-p, Inc.
258 Bradley St., 2nd fl.
New Haven, CT 06510-1106
Title:
High-Gradient Two-Beam Electron Accelerator
Summary:
A high-energy electron-positron collider is believed by members of the scientific community to be one of the next "big science" projects requiring intellectual and financial support from governments on an international scale. Technical improvements in this project have the potential to reduce the cost and complexity of a future collider, thus making it more appealing to those responsible government bodies.
---
Company:
Omega-p, Inc.
258 Bradley St., 2nd fl.
New Haven, CT 06510-1106
Title:
Modified Magnicon For High-Gradient Accelerator R&D
Summary:
This project will improve performance for the unique millimeter wave amplifier that is a key element in an R&D program towards developing a future high-gradient particle accelerator will broaden the scope of research that can be accomplished. This work could help position U.S. science to play a more dominant role in future large international research projects, and could introduce new technology for the U.S. microwave tube industry to make their products more competitive.
---
Company:
Omega-p, Inc.
258 Bradley St., 2nd fl.
New Haven, CT 06510-1106
Title:
Short-Period RF Undulator for a SASE Nanometer Source
Summary:
A compact microwave-driven device will be developed that will cause an energetic electron beam to wobble as it travels along. This can be the basis for a source of short wavelength light for research and medical applications that would be smaller and less expensive than otherwise possible.
---
Company:
Precision Combustion, Inc.
410 Sackett Point Road
North Haven, CT 06473-3106
Title:
Downhole Oxyfuel Steam/CO2 Generator for Production of Gas from Hydrates
Summary:
This project will demonstrate a novel oxyfuel downhole steam generator aimed at providing an enabling tool to efficiently recover gas from methane hydrate deposits and simultaneously reduce emissions with potential CO2 sequestration. Success will lead to commercialization of a downhole combustor for natural gas production.
---
Company:
Proton Energy Systems
10 Technology Drive
Wallingford, CT 06492-1955
Title:
Low Cost Large Scale PEM Electrolysis for Renewable Energy Storage
Summary:
This company manufactures hydrogen generation systems which can be integrated with renewable energy sources to generate hydrogen fuel while producing minimal carbon footprint. This project aims to reduce the cost of this technology through development of improved membrane technology designed to reduce raw material cost and improve electrical efficiency.
Back to Top