Arizona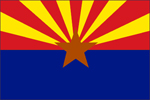 Company:
Amsen Technologies, LLC
1684 S. Research Loop, Suite 518
Tucson, AZ 85710-6740
Title:
Low-Cost, High-Performance Hybrid Membranes for Redox Flow Batteries
Summary:
This project will develop a low-cost, high performance hybrid membrane for redox flow batteries, which is a technology of significant potential for stationary electrical energy storage to be used with wind or solar power generation.
---
Company:
ColnaTec, LLC
1230 E. Baseline Road, Suite 103-315
Mesa, AZ 85204-6706
Title:
Self Cleaning Process Control Sensor for Thin Film Solar Cell Manufacturing
Summary:
This project will develop a state-of-the-art processing sensor for the manufacture of thin film solar cells. This new sensor will eliminate many of the defects in existing technology and offer significant cost savings in solar cell production.
---
Company:
Creative Power Solutions (USA), Inc.
11010 N. Saguaro Blvd., Suite 206
Fountain Hills, AZ 85268-5562
Title:
A Novel Concept for Preferential Production of Methane Rich Syngas from Coal Gasification
Summary:
This project will develop a gasifier that will combine coal and a renewable waste to produce methane rich syngas in a cost effective manner. This technology will reduce the cost of power generation, enhance lifetime of fossil fuel resources, and provide a cost effective method to reduce emission of greenhouse gases from coal based power plants.
---
Company:
Energy Derived LLC
P.O. Box 1130
Queen Creek, AZ 85142-1824
Title:
Drying and Moisture Management of Microalgae Biomass
Summary:
This project will develop multiple technologies for the development of algae biomass as a potential solution to America's dependence on foreign based petroleum products. This research will address the drying and moisture management of algae biomass by utilizing waste heat energy as the primary source of energy for the process.
---
Company:
MER Corporation (Materials and Electrochemical Research)
7960 South Kolb Road
Tucson, AZ 85756-9237
Title:
A Low Cost Continuous Process to Produce Magnet Alloys
Summary:
Reducing the cost of a critical component leading to expanded use of electrical vehicles, reduces pollution and the necessity to import oil which benefits the whole Nation. Neodymiumiron magnets have many uses in addition to electrical vehicles such as in mining for separations and all processes utilizing a magnetic field including wind generation of electricity.
---
Company:
Physics, Materials, and Applied Mathematics Research, LLC
1665 E. 18th Street, Suite 112
Tucson, AZ 85719-6808
Title:
Development of Filament-Based Laser-Induced Breakdown Spectroscopy for the Standoff Detection of Radiological Materials
Summary:
This project will develop a robust, versatile and highly sensitive sensor capable of detecting nuclear and other sensitive materials at long range. This sensor can be used to increase national security and reduce risk to military personnel deployed on site.
---
Company:
Ridgetop Group, Inc.
6595 N. Oracle Rd
Tucson, AZ 85704-5645
Title:
Uptime Improvements for Photovoltaic Power Inverters
Summary:
This project will design a modular, condition monitoring subsystem with accurate reliability prediction and capability for solar power systems, which improves state-of-the-art degradation diagnostics and reliability prediction methods for field-deployed inverters.
Back to Top