Virginia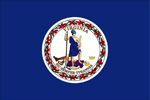 Company:
Suganit Systems Inc
10903 Hunt Club Road
Reston, VA 20190-3912
Title:
Feasibility of Commercialization of a Pre-Pretreatment Process for Enhanced Biomass Saccharification
Summary:
Pretreatment of biomass plays a critical role in the ability to convert cellulosic biomass to fuels and chemicals. This project addresses the development of a pretreatment technique that has allowed successful production of ethanol and other chemicals from biomass.
---
Company:
Directed Technologies, Inc.
3601 Wilson Blvd.
Suite 650
Arlington, VA 22201-2366
Title:
Aqueous Phase Base-Facilitated-Reforming (BFR) of Renewable Fuels
Summary:
This project investigates a novel low cost method of producing gaseous hydrogen from biomass or municipal solid waste (MSW). The process utilizes an aqueous phase Base-Facilitated-Reforming (BFR) reactor to produce pure hydrogen gas without additional purification and, in one configuration, sequester carbon in solid form to avoid release of greenhouse gases.
---
Company:
Hyperv Technologies Corporation
13935 Willard Road
Chantilly, VA 20151-2936
Title:
MiniRailguns for Fusion and HEDP
Summary:
This research project will demonstrate use of high velocity plasma jets to generate high density drivers suitable for imploding a plasma target to fusion relevant densities and temperatures. This technique could play a significant role in accelerating development of fusion power.
---
Company:
Harmonia, Inc.
202 Kraft Drive
Suite 1000
Blacksburg, VA 24060-6747
Title:
Codebook: Accelerating Transformations in How the World Does Science Through Collaboration, Social Networking, and Semantic Analysis to Maintain and Support Computational Software
Summary:
This effort will accelerate and facilitate the production of scientific simulation data in an era of dramatically increased processing speeds. This project will develop approaches to scale mathematical tools and libraries to be accessible at the new computing speeds.
---
Company:
Fm Technologies, Inc.
4431-H Brookfield Corporate Dr
Chantilly, VA 20151-1691
Title:
Micro-Pulse Amplified Electron Injector
Summary:
This program will develop a radio-frequency accelerator that will provide a high power source suitable for many applications. Of particular importance are medical cancer therapy linacs, sterilization, and research injectors.
---
STTR Project
Company:
Luna Innovations Incorporated
1 Riverside Circle
Suite 400
Roanoke, VA 24016-4962
Title:
Low Draft Temperatur Sensor Gen-IV Simulation Test Planning and Hardware Development
Summary:
A method of testing and improving the durability of low-drift temperature sensors is proposed for nuclear reactor use which supports the Gen-IV and Nuclear Hydrogen Initiatives. This sensor will enable safe operation of these new reactors at peak efficiencies, which in turn will reduce the U.S. dependency on foreign oil while simultaneously reducing emission of green house gasses.
Back to Top
Back to Map