Texas
TEXAS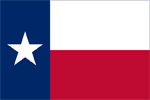 Company:
Proportional Technologies, Inc.
8022 El Rio Street
Houston, TX 77054-4184
Title:
High Rate Large Area Enriched Boron Neutron Detector for SNS
Summary:
The Spallation Neutron Source (SNS) facility will push available thermal neutron flux at least an order of magnitude and drastically improve neutron scattering capabilities but high neutron flux intensity places severe demands on imaging instrumentation and many target stations have no acceptable detector selection. A novel detector technology based on boron coated straw detectors and economical methods of manufacturing will be developed providing a solution to this problem as well as to the problem of large scale deployment of neutron detection portal monitors to make our nation safer from the terrorist threat imposed by smuggling of plutonium.
---
Company:
Lynntech, Inc.
7610 Eastmark Drive
College Station, TX 77840-4023
Title:
Improved Heterogeneous Catalyst for the Production of Biodiesel
Summary:
This project will develop a new catalyst to cost-effectively transform renewable sources of energy such as plant oils to biodiesel. The development of this technology will reduce the country's dependence on foreign oil and result in a net decrease in carbon dioxide emissions.
---
Company:
Lynntech, Inc.
7610 Eastmark Drive
College Station, TX 77840-4023
Title:
Non-thermal Plasma Cracking of Residual Distillate and Vacuum Gas Oil
Summary:
Heavy crude oil is becoming increasing important as supplies of light crude run out. However, processing of heavy crude is limited to large scale refineries. This project will allow cost effective refining of heavy crude in the Nation's small refineries, which are critical to meeting the Nation's liquid fuel supply.
---
Company:
Applied Nanotech, Inc.
3006 Longhorn Blvd. Suite 107
Austin, TX 78758-7631
Title:
Non-Contact, Printable Metallic Inks for Silicon Solar Cells
Summary:
Electrical contacts are a critical part of photovoltaic technology and in particular represent a difficult and costly area for silicon solar cell production. The proposed research will exploit recent advances in nanotechnology to lower production costs for silicon solar cells by developing conductive inks that can be applied using non-contact printing techniques.
---
Company:
Nanohmics, Inc.
6201 E. Oltorf Street #400
Austin, TX 78741
Title:
High Temperature, High Energy Density Film Capacitors
Summary:
This project will improve the performance of current capacitors by allowing them to operate at higher temperatures and higher voltages in smaller volumes current capacitors. Improvements in capacitors will, in turn, reduce the size of many military and commercial electronic systems.
---
Company:
Silicon Audio, LLC
2124 East 6th Street, Suit 105
Austin, TX 78702
Title:
Micro-Seismometers via Advanced Meso-Scale Fabrication
Summary:
This project will develop a state-of-the-art miniature seismometer to address nuclear explosion monitoring needs of the DOE/NNSA. The technology combines optical elements with small mechanical components micro-fabricated on silicon.
---
Company:
Shear Form, Inc.
207 Dellwood St.
Bryan, TX 77801-2520
Title:
Manufacture of Fine-Grained Niobium Bar
Summary:
Decreases in the starting grain size of bulk Nb for production of high-current fine-filament Nb3Sn superconductors will be achieved by an innovative and cost effective materials processing method. The result will be lower cost Nb3Sn superconductor wire with improved performance in high magnetic fields. With this improved Nb bar, it will be possible to manufacture higher field magnets for high energy physics applications such as particle accelerators.
---
Company:
Trimeric Corporation
P.O. Box 826
Buda, TX 78610
Title:
Selenium Speciation and Control Technologies in Sulfate-Rich Wet FGD Systems
Summary:
This research will develop new technology to reduce selenium water discharges from coal-fired electric power plants and to reduce selenium environmental releases from power plant byproducts. The public will benefit from reduced exposure to selenium from the use of an abundant domestic energy source.
Back to Top
Back to Map