New Hampshire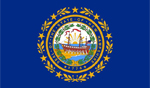 Company:
Xemed, LLC
16 Strafford Avenue
Durham, NH 03824
Title:
Ex-situ Polarized 3He Neutron Spin Filter and Analyzer System
Summary:
This project's technology for producing large quantities of nuclear polarized 3He gas can serve dozens of experiments at the Spallation Neutron Source in Tennessee and at Los Alamos. This project would allow investigations into the magnetic structures of thin films and offer synergistic benefits for diagnostic medical imaging of lung function.
---
Company:
Creare Incorporated
16 Great Hollow Road
P.O. Box 71
Hanover, NH 03755-3116
Title:
A Magneto-Hydrodynamic System for Generating High-Pressure Impluses in Spallation Targets
Summary:
This project will develop a system to model and analyze the mechanisms behind wall erosion on the Spallation Neutron Source target at the Oak Ridge National Laboratories. This work will help enable the facility, which is used for materials science research, to operate at higher efficiency and lower cost.
Back to Top
Back to Map