Missouri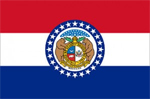 Company:
Eentec
1100 Forest Ave
Kirkwood, MO 63108
Title:
Seismic Detection Mini Seismometer
Summary:
A miniaturized high-resolution low cost seismometer will assist DOE tasks in providing detection systems for nuclear treaty monitoring under tight budgets, allow valuable scientific information for earthquake analysis, offshore oil undersea exploration, and structural engineering leading to better public safety, modifications of building codes, reinforcement of building, bridges, dams, etc.
---
Company:
Titanova, Inc
12724 Pennridge Drive
Bridgeton, MO 63304
Title:
Novel Diode Laser Cladding of High Temperature Alloys for Used in Ultrasupercritical Coal-Fired Boilers
Summary:
This project will develop and certify direct diode laser systems and processes for cladding future ultrasupercritical and existing coal-fired boiler fireside components. It will result significant improvements in clad material properties and fabrication costs, resulting in an increase in boiler efficiencies, thus reducing utilities pollution and carbon dioxide emissions.
Back to Top
Back to Map