Michigan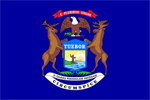 Company:
Niowave, Inc.
1012 North Walnut Street
Lansing, MI 48906-5061
Title:
Development of a Superconducting RF 1.5 GHz Landau Cavity for Synchrotron Light Sources
Summary:
This project will develop superconducting 1.5 GHz Landau cavities that will greatly increase the beam lifetime of future light sources such as the NSLS-II. This research would lead to a domestic supplier of superconducting RF cavities for existing and planned light sources.
---
Company:
Electrocon International Inc.
405 Little Lake Drive, Suite C
Ann Arbor, MI 48103
Title:
Simulating the Smart Electric Power Grid of the 21st Century
Summary:
This project proposes the development of a simulation tool that will give electric power grid engineers the ability to design and evaluate the fast, wide-area control needed to avoid cascading outages and blackouts. This next generation program will integrate some of the disparate simulation programs of today with new control and communication models to analyze and design the smart grid of tomorrow.
---
Company:
Niowave, Inc.
1012 North Walnut Street
Lansing, MI 48906-5061
Title:
Development of SRF Multi-Spoke Cavities for Electron Linacs
Summary:
Future nuclear physics facilities will require high current electron linear accelerators. This project will develop superconducting multi-spoke cavities that offer several advantages over the elliptical structures used to date to accelerate electrons near the speed of light.
---
Company:
Michigan Aerospace Corporation
1777 Highland Drive, Suite B
Ann Arbor, MI 48108-2285
Title:
Real-Time Optical MEMS-Based Seismometer
Summary:
Monitoring of low-yield nuclear detonations is difficult with current seismic monitoring systems which are bulky, expensive, and difficult to deploy rapidly. The probability of detecting low-yield tests drops significantly if the explosion is below one kiloton. The proposed effort will develop a seismometer that is compact, ultra-sensitive and easily deployed for immediate monitoring of man-made seismic activities in critical locations. In addition, the seismometer will have applications in oil prospecting and mining activities, as well as space exploration, surveillance, and a variety of scientific studies, including volcano and earthquake monitoring research.
Back to Top
Back to Map