Florida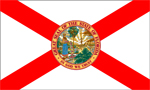 Company:
Parallax Research, Inc.
P.O. Box 12212
Tallahassee, FL 32317
Title:
Parallel Data Collection Wavelength Dispersive X-Ray Spectrometer for Use on Scanning Electron Microscopes
Summary:
This project will develop a new type of high performance x-ray spectrometer for use on electron microscopes for measurement of elements in small features. This spectrometer will provide much faster analysis than competing systems.
---
Company:
Accelogic LLC
1830 Main Street, Suite 204
Weston, FL 33326-3684
Title:
Enhancing Sca/LAPACKrc with Extremely-Fast Least-Squares Solvers for Heterogeneous CPU/FPGA Supercomputers
Summary:
This project will meet DOE's and the nation's rapidly increasing supercomputing requirements through software acceleration technology that will reduce execution times from hours to seconds for the important class of "least-squares" problems. This will enable breakthrough improvements in real-time medical imaging, faster and more accurate methods to find oil, and more reliable electric power grids -- among many other applications.
Back to Top
Back to Map