Arizona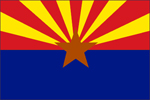 Company:
MER Corporation (Materials and Electrochemical Research)
7960 South Kolb Road
Tucson, AZ 85756-9237
Title:
An Innovative Triple Function Cathode for MEMS Fuel Cells
Summary:
This project will use a single material for use in miniature electric power sources that replaces three materials used in conventional fuel cells thus simplifying their assembly and reducing their cost. This improved miniature fuel cell system provides more power for longer to portable electronics while reducing the quantity of toxic battery materials.
---
Company:
MER Corporation (Materials and Electrochemical Research)
7960 South Kolb Road
Tucson, AZ 85756-9237
Title:
Lightweight Metal Foams with Tailorable Structure and Properties
Summary:
A low cost technology for metal foams with a uniform, consistent, and well-controlled cell structure and properties will be developed. New opportunities will be opened for production of lightweight energy absorbing vehicle components, which enable enhanced safety as well as weight and cost savings.
---
Company:
Advalue Photonics Inc
4585 S. Palo Verde Road, Suite 405
Tucson, AZ 85714-1962
Title:
High Efficiency Fiber Laser for Advanced Accelerator
Summary:
Department of Energy needs single polarization mode-locked high power 2 micron fiber laser for advanced laser electron accelerator. This project is for the development of a new fiber laser by using innovative specialty fiber to meet Department of Energy's demand. This fiber laser can also be used for materials process, remote sensing, and bio-medical applications.
---
STTR Project
Company:
Burge Environmental, Inc.
6100 South Maple Avenue
Suite 114
Tempe, AZ 85283-2872
Title:
In-Situ Monitoring of Uranium in Ground Water Using a Colorimetric-Based Sensor: Enabling the Mapping of Uranium Plume Migration of Contaminated DOE Sites
Summary:
A field-deployable monitoring system for the cost-effective and rapid determination of radioactive substances in the groundwater at federal sites, such as Hanford Site, Washington, will be developed. The development of the system will decrease the future cost of site remediation.
Back to Top
Back to Map