Alabama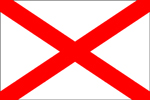 Company:
Plasma Processes, Inc.
4914 Moores Mill Road
Huntsville, AL 35811-1558
Title:
Electrochemical Microalloying of Tungsten for Plasma Facing Component Applications
Summary:
Development of tungsten alloys with improved properties will allow the fabrication of robust fusion components; thus bringing fusion's promise of efficient electrical power generation, a step closer to being realized.
---
Company:
Polaris Sensor Technologies, Inc.
200 Westside Square
Suite 320
Huntsville, AL 35801
Title:
Polarimetry in Remote Sensing Applications to Enhance Signal-to-Noise Ratios, Man-made Object to Natural Background Material Contracts, and Provide Increased Image Stability in the Infrared Region
Summary:
This project will develop an innovative infrared imaging system that forms images of infrared scenes using polarized light. Elements of the image that are not visible using un-polarized light are made visible and information about orientation of surfaces and objects can be obtained thereby enhancing the detection of objects of interest.
Back to Top
Back to Map