South Carolina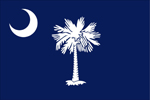 Agri-Tech Products, LLC
116 Wildewood Club Court
Columbia, SC 29223-3135
Developing a Mobile Torrefaction Machine
There are major economic and logistical challenges in getting woody biomass out of the forest or off the farm in a manner, which justifies the costs of harvesting and transportation. This project proposes to commercialize innovation developed by North Carolina State University (NCSU) into a mobile torrefaction machine, which can go to where cellulosic biomass is harvested, increase its energy density, add value to and enhance the characteristics of the biomass, so that it may be more cost-effectively be transported to and utilized by the end-user.

LuminOF, LLC
1800 West Buchanan Drive
Columbia, SC 29206
New Phosphors for UV LED Solid-State Lighting for Solid State Lighting Core Technology for Light Emitting Diodes (LEDs)
This project will further develop a new and proprietary family of phosphors for use with UV LEDs that is less expensive to manufacture than currently available photoluminescent materials. Additionally, these phosphors can be tailored to match the emissions of various solid-state lighting devices, allowing for the production of LEDs with exquisite light quality and color rendering.
Back to Top
Back to Map