New York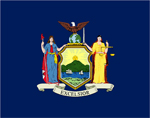 ACENT Laboratories LLC
3 Scott Lane
Manorville, NY 11949
A High Efficiency Integrated Syngas Purification and Hydrogen Separation and Storage System
A high-efficiency approach to separating hydrogen from the products of coal gasification will be developed based on aerospace-derived technologies. Aerodynamic gas separation is combined with process that results in hydrogen stored in a safe liquid substance, ready for transportation, distribution and hydrogen release on-demand.

Advanced Energy Systems, Inc.
27 Industrial Blvd. Unit E
Medford, NY 11763-2286
Advanced High-Brightness Electron Source
This project will develop an advanced electron source suitable for driving the next generation of light sources for research, imaging and industrial processing, that will keep the US at the forefront of the important science that will be performed and the spin-off applications that will be developed from that science.

Advanced Energy Systems, Inc.
27 Industrial Blvd. Unit E
Medford, NY 11763-2286
Prototype 800MHz Crab Cavity Development
At the collision point for most high energy physics colliding beam accelerators, some fraction of the particles do not collide with particles in the oncoming bunch due to the relative angle of the bunches at the collision point. Crab cavities "twist" the beam, increasing the number of particles which collide.

Advanced Energy Systems, Inc.
27 Industrial Blvd. Unit E
Medford, NY 11763-2286
Hydroelectric Energy from Wastewater
The effluent stream of a wastewater treatment facility contains substantial energy that can be harnessed to offset its power demand. This project will develop and demonstrate a full-scale system that can be replicated at municipal wastewater facilities around the country, and the world.

C2 Biotechnologies, LLC
4663 Route 9G
Germantown, NY 12526
Cellulosic Fusion Enzyme Development
To facilitate the direct conversion of plant biomass to fermentable sugar and reduce the cost for cellulosic hydrolysis, this project proposes protein engineering single enzymes that have multiple activities, fusion enzymes.

Dimension Technologies, Inc.
315 Mt. Read Blvd.
Rochester, NY 14611
Large Autostereoscopic Multiview 2D/3D Switchable Desktop Display
This project will investigate and model a desktop display that can produce high resolution 3D images which can be viewed without 3D glasses by groups of scientists viewing complex multi dimensional data sets or simulations. These displays could also be used in conference rooms and eventually the home.

H2 Pump, LLC
11 Northway Lane North
Albany, NY 12110
Hydrogen Production Process Intensification Technology
Hydrogen production from natural gas, biomass, etc., requires efficient and cost effective methods to separate the hydrogen for use in membrane fuel cells. The electrochemical pump can meet this requirement and will facilitate the transition of hydrogen as a transportation fuel, thereby reducing the nation's dependency on foreign energy sources.

Kitware, Inc.
28 Corporate Drive
Clifton Park, NY 12065-8688
Management and Comparative Analysis of Dataset Ensembles
This project will develop advanced software tools for the visual analysis of large data. These tools allow rapid evaluation and management of the thousands of computer simulations or experimental measurements used to create new products and technologies.

Kitware, Inc.
28 Corporate Drive
Clifton Park, NY 12065-8688
Multi-Resolution Streaming for Remote Scalable Visualization
This project will develop advanced software tools for the visual analysis of large data. These tools enable remote viewing of large data stores, thereby eliminating the need to move data between computer systems, and allowing users to access geographically remote computing centers.

MesoScribe Technologies, Inc.
25 Health Sciences Drive
Stony Brook, NY 11790
Development of Packaging and Integration of Sensors for On-Line Use in Harsh Environments
This project will develop improved sensor packaging techniques for use in advanced power systems. The technology will enable steam turbines, boilers and other critical components to be monitored and operated efficiently to prevent unforced shutdowns, reduce maintenance costs, and reduce emissions.

Simmetrix, Inc.
10 Halfmoon Executive Park Drive
Clifton Park, NY 12065-5630
Interoperable Components to Support Unstructured Mesh Simulations on Massively Parallel Computers
This project will support the reliable automatic generation and control of the computer representations used by software to perform complex physical simulations. These tools will execute automatically in seconds to minutes of computer time thus eliminating the hours to months of time of experts currently spend on such processes.

Novomer, Inc.
950 Danby Road, Suite 198
Ithaca, NY 14850
Novel Catalytic Process for Synthesizing Polyols from CO2 Feedstock
Finding value-added uses for captured CO2 will significantly increase the economic viability of capturing CO2 from power plants. This project will develop a novel process for developing low molecular weight polycarbonates from captured CO2.

Underground Systems, Inc.
84 Business Park Drive, Suite 109
Armonk, NY 10504
Adaptive Predictive Algorithms for Renewables Integration
The availability of a robust software algorithm that monitors conditions in real-time and that uses historical statistical data to predict behavior under various future conditions could release additional capacity, and improve the reliability and economic efficiency of the nation's transmission and distribution corridors. This project will develop a software package that receives data from line sensors, and use credible contingency scenarios to predict ampacity one, two and four hours into the future assigning probabilities to the outcomes.
Back to Top
Back to Map