Nevada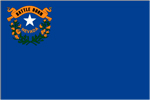 Multi-Phase Technologies, LLC
310 Rebecca Drive
Sparks, NV 89441
Determining Spectral Properties of Rocks and Sediments from Broadband Electrical/Electromagnetic Data Processing
This project will design a method which can characterize subsurface conditions (i.e. permeability) of environmental remediation sites in order to better design remediation systems.

Multi-Phase Technologies, LLC
310 Rebecca Drive
Sparks, NV 89441
Wireless Electrical Resistivity Tomography System for CO2 Sequestration Monitoring
This project will develop a cost-effective method of monitoring CO2 sequestration reservoirs for potential leakage pathways and for reservoir integrity using a geophysical method, Electrical Resistance Tomography (ERT).
Back to Top
Back to Map