New Mexico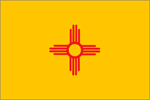 Deep Web Technologies, LLC
301 North Guadalupe, Suite 201
Santa Fe, NM 87501
An Analysis of the Performance Bottlenecks in the Federated Search Information Flow
Federated search technology enables information discovery across many information sources in parallel and helps to accelerate knowledge diffusion. This project will identify and attempt to reduce and eliminate bottlenecks that limit the benefits of federated search technology.

Electrodynamic
4909 Paseo Del Norte D
Albuquerque, NM 97113-1527
Pulse Resonance for Photoelectron Acceleration
Accelerator system performance is limited by the high power requirements, low duty cycle, and low repetition rate, of electron guns that can produce a brief electron pulse in a 10-100MV/m environment. This project will create a novel electron gun combining this pulse resonator technology with laser and photocathode technologies.

STTR Project
Gratings, Inc.
2655A Pan American Freeway
Albuquerque, NM 87107-1639
Microstructured Crystalline Silicon Thin-Film Solar Cells
This project aims at reducing photovoltaic energy generating cost through fabrication of several solar cells from a single wafer in contrast with existing technology of creating a single solar cell from a single substrate.

Retriever Technology, LP
104 1/2 Calle La Pena
Santa Fe, NM 87505
Use of Raster to Vector Image Analysis Technology to Rapidly and Accurately Digitize Historical Seismograms
This project will develop software tools to automatically extract data from historic seismograms. By automating this process it will allow for large repositories of archived data to be analyzed using modern computer-based techniques, providing invaluable assistance to seismic, non-proliferation and mineral extraction studies.

Rocky Mountain Geophysics, LLC
167 Piedra Loop
Los Alamos, NM 87544
Development of Software to Digitize Historic Hardcopy Seismograms from Nuclear Explosions
Nuclear explosion monitoring operations need to be prepared to provide forensic information for potential future nuclear explosions tested away from known nuclear test sites. This project will develop a software package geared towards the automatic digitization of hardcopy seismograms from historic nuclear explosions detonated under a variety of geophysical conditions.

Southwest Sciences, Inc.
1570 Pacheco Street, Suite E-11
Santa Fe, NM 87505-3993
Differential Absorption DIAL Apparatus for CO2 Flux Measurement
This project will investigate a compact, rugged laser source for quantifying the uptake of carbon dioxide by forests and other ecosystems.

Southwest Sciences, Inc.
1570 Pacheco Street, Suite E-11
Santa Fe, NM 87505-3993
NDE of Gas Turbine Thermal Barrier Coatings
This project will develop a method for inspecting power plant and aircraft engine turbine parts that are coated with advanced ceramic materials known as thermal barrier coatings. These coating will greatly improve the performance, life and safety the turbines.

TPL, Incorporated
3921 Academy Parkway North NE
Albuquerque, NM 87109
Nanocomposite Film Capacitors for High Energy Accelerators
This project will reduce the size of energy storage devices used in high power electronics. Successful results could benefit applications in the defense, energy, and power electronics industries.
Back to Top
Back to Map