Montana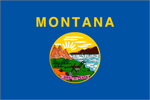 Resodyn Corporation
130 North Main, Suite 600
Butte, MT 59701
An Advanced Vibrothermography Approach for Wind Turbine Applications
A reliable, portable, instrumentation deployment system that can be utilized during wind turbine composite members manufacturing, during installation, and throughout the lifetime of wind turbine systems will be developed. This project will develop technology that has the potential to dramatically reduce the yearly wind turbine maintenance costs, resulting in reduced consumer power costs.

Resodyn Corporation
130 North Main, Suite 600
Butte, MT 59701
Low Cost Optrodes for Chemical Sensor Development of Tethered PET-Fluorophores
This project will produce a novel sensor technology that enables the production of a low-cost optical sensor to determine the level of acidity or alkalinity (pH) over a broad range for industrial, military, and environmental applications. Expected benefits include improved performance, energy savings, enhanced efficiency, and security.
Back to Top
Back to Map