Hawaii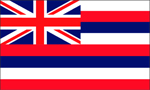 Makai Ocean Engineering, Inc.
P.O. Box 1206
Kailua, HI 96734
Electrical Transmission Cable to Shore for a 100MW Floating OTEC Electrical Power Plant
Ocean Thermal Energy Conversion (OTEC) can supply renewable and firm electrical energy to tropical areas (Hawaii, Guam, Puerto Rico, DOD bases). A critical marine component does not exist today: a submarine high voltage power cable system for dynamic, deep ocean OTEC conditions.

STTR Project
Technical Research Associates, Inc.
2800 Woodlawn Drive, Suite 149
Honolulu, HI 96822
Spectral Assisted Moving Vehicle Tracking
Current approaches in the automatically tracking moving vehicles from an overhead platform use techniques that rely on spatial-temporal characteristics coupled with moving object maps and tracking techniques. This project will investigate methods where the spectral observable of the moving vehicles can be useful to improve the efficacy of tracking.
Back to Top
Back to Map