Georgia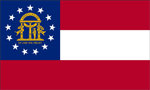 American Maglev Technologies of Florida, Inc.
30 South Park Square Suite 201
Marietta, GA 30060
Magnetic Gears? The Key to Efficient Ocean Current Energy Recovery
This project will explore new green, cost effective energy recovery technology for applications in the ocean's tides, the world's slow moving rivers, and wind energy. This new technology is primarily based in the replacement of mechanical gearboxes with new magnetic gears.

Cermet, Inc.
1015 Collier Road, Bldg H
Atlanta, GA 30318
Nonpolar Green LEDs Based on InGaN
This project will develop a green light emitting diode that produces the most amount of green light with the least possible input power. This technology can be coupled with other lighting technology to produce light sources that are highly energy efficient.

nGimat Co.
5315 Peachtree Boulevard
Atlanta, GA 30341-2107
High Voltage Lithium-Ion Nano-Cathodes
The goal of this project is to develop a critical component of Lithium-ion batteries that will power Plug-in Hybrid Electric Vehicles. Automobiles powered by batteries containing this component will reduce our dependence on foreign oil, while also reducing harmful automobile emissions and strengthening global competitiveness of the U.S. automobile industry.

STTR Project
Polymer Aging Concepts, Inc.
372 River Drive
Dahlonega, GA 30533
Nanotechnology-Based Condition Monitoring Sensors for Generation Electrical Inulation Systems
A new method to detecting aging of electrical insulation will significantly improve availability and lower costs of nuclear power plants by providing sensors that detect degradation of electric insulation in harsh environments, allowing component replacement before failure. This technology also has health-monitoring applications in automotive, wind turbine and aerospace technologies.

Virkaz Technologies
7305 Weber Street
Atlanta, GA 30349-7919
CloudSpan: Enabling Scientific Computing Across Cloud and Grid Platforms
Grid computing has been established within the Nuclear Physics community as paradigm for data sharing and computational analysis on a massive scale. Cloud computing has recently emerged as a paradigm in which users lease the resources required to maintain and create virtual storage and computational elements in shared hosting environment. This project will develop an infrastructure that allows users to execute their scientific applications seamlessly in either environment.
Back to Top
Back to Map