Virginia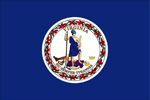 Company:
Luna Innovations Incorporated
1 Riverside Circle, Suite 400
Roanoke, VA 24016-4962
Topic:
Sensors, Controla, and Wireless Network
Title:
Recovery Act - Radiation Tolerant, Ultra-High Temperature Sensors for In-Core Use
Summary:
Stable high temperature sensors are proposed for nuclear reactor use, supporting Gen-IV Reactor and Nuclear Hydrogen initiatives. This technology enables reactor safety and high efficiencies, to reduce the US dependency on foreign oil, and to emission of green house gasses.
---
Company:
Columbia Power Technologies, LLC
236 East High Street
Charlottesville, VA 22902-5178
Topic:
Advanced Water Power Technology Development
Title:
Recovery Act - High Torque, Low Cost, Direct-Drive Rotary Generator
Summary:
Present technology requires gears or hydraulics to address low drive shaft speeds in renewable energy systems, but operation and maintenance for gears and hydraulics are costly. This research develops a high torque, low speed and low cost direct-connected rotary generator for renewable energy applications to reduce cost of energy.
---
Company:
Luna Innovations Incorporated
1 Riverside Circle, Suite 400
Roanoke, VA 24016-4962
Topic:
Advanced Solar Technologies
Title:
Recovery Act - Advancement of Nano-Material Production for OPV Acceptors
Summary:
Development of a new manufacturing process at Luna Innovations Incorporated will make organic solar cells more efficient and affordable.
Back to Top
Back to Map