Ohio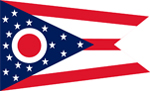 Company:
MesoCoat, Inc.
24112 Rockwell Dr.
Euclid, OH 44117-1252
Topic:
Power Plant Cooling
Title:
Recovery Act - Microcomposite Coatings for Advanced Heat Exchangers
Summary:
Next generation heat exchangers will operate at higher pressures and temperatures than current models in order to increase cycle efficiency, reduce fuel consumption and emissions. The problem lies in the materials that are currently used. Current materials solutions include nickel-based super alloys, but these are prohibitively expensive. This project has sought to bypass this issue through the development of micro composite coatings that are resistant to erosive wear, creep and gas corrosion at elevated temperatures. Mesocoat will develop advanced heat exchanger coatings which will allow for higher operating temperatures within thermoelectric systems. Nano materials are being engineered into micro composite coatings which will be applied using infrared and radio-frequency fusion to steel and nickel based alloys. If successful, the engineered coating could be applied to heat transfer surfaces within power plants, increasing the efficiency and thereby lowering the emissions of these systems.
---
Company:
MesoCoat, Inc.
24112 Rockwell Dr.
Euclid, OH 44117-1252
Topic:
Advanced Gas Turbines and Materials
Title:
Recovery Act - Nanocomposite Coatings for Life Extension in Zinc Pot Rolls
Summary:
Galvinization of steel is used to develop a corrosion resistant surface for use in outdoor applications; however, the liquid metal, zinc, is corrosive and reacts with tooling to form dross which can deform tooling and damage product. The goal of this project is to develop solid lubricant containing, nano-composite coatings that are resistant to liquid metal corrosion and environmental wear.
---
Company:
RNET Technologies, Inc.
240 West Elmwood Drive, Suite 2010
Dayton, OH 45459-4248
Topic:
Software Libraries and Applications Maintenance and Scaling to Petascale
Title:
Recovery Act - Optimzation of the PETSc Library for Clusters of MultiCore Processors
Summary:
This project will revise the PETSc libraries to operate more efficiently on the emerging generation of supercomputers. These new computers are moving to a hybrid architecture where CPU's and GPU's co-exist and applications are expected to take advantage of their strengths. The existing PETSc libraries, a large collection of mathematical functions used by numerous scientific applications, were written to run on CPU based computers. Revisions to these PETSc libraries are required to take advantage of this emergence of GPU and hybrid CPU/GPU based computers.
Back to Top
Back to Map