New York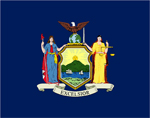 Company:
United Environment & Energy LLC
111 Ridge Road
Horseheads, NY 14845-1507
Topic:
Advanced Building Air Conditioning and Refrigeration, Thermal Load Shifting, and Cool Roofs
Title:
Recovery Act - Bio-Based Thermochromic Intelligent Roof Coating
Summary:
This project aims to develop a bio-based intelligent roof coating technology to reduce both heating and cooling loads of buildings, which will bring significant energy and cost savings to the end-users, protect the environment and improve human health, and reduce the use of petroleum based fuel.
---
Company:
Kitware, Inc.
28 Corporate Drive
Clifton Park, NY 12065-8688
Topic:
Scientific Visualization and Data Understanding
Title:
Recovery Act - Multi-Resolution Streaming for Remote Scalable Visualization
Summary:
This project will extend the popular VTK and Paraview visualization software packages to provide robust and efficient adaptive mesh refinement (AMR) support. AMR techniques automatically adapt the image resolution to the needs of the user, such as providing finer details of an object as the user zooms in. While AMR techniques are common for 2D objects (photographs), 3D objects present significant challenges both in loading the large data images and in maintaining control over the zoom in/out function. This project will address these issues, allowing a wide variety of science communities including astrophysics and combustion to use multi-resolution images of 3D objects.
Back to Top
Back to Map