Indiana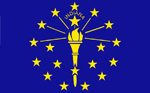 Company:
Candent Technologies, Inc.
6107 West Airport Blvd., Suite 190
Greenfield, IN 46140-9122
Topic:
Advanced Gas Turbines and Materials
Title:
Recovery Act - Advanced Technology High Efficiency Low Cost Small Turbine for DG and CHP
Summary:
Candent Technologies, an engineering research company located in Mt Comfort, Indiana, is developing an advanced technology, low cost, high efficiency, multi-fuel, small gas turbine engine, which is suitable for power generation and propulsion (marine, aviation, ground vehicles) applications, and which will greatly reduce fossil fuel consumption as well as green house gas emissions.
---
Company:
Lucid Energy Technologies, LLP
118 East Washington Street, Suite 2
Goshen, IN 46528-3727
Topic:
Advanced Water Power Technology Development
Title:
Recovery Act - Lucid Energy Technologies In-conduit Hydropower
Summary:
Power pipe is a renewable energy system that will generate electricity by extracting energy from the excess head pressure in water transmission pipelines. The innovative technology has the capacity to generate millions of kilowatt-hours from an abundant source of energy which, to date, has been wasted.
Back to Top
Back to Map