Texas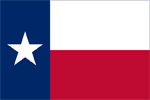 Encryptor, Inc.
1900 Preston Road #267-303
Plano, TX 75093-3604
Recovery Act - Smart Low-Cost Controller Chip for Grid-Friendly Household Appliances
This project will develop a semiconductor chip to be embedded inside all electrical consumer appliances automatically reducing the power consumption of this appliance during times of peak electrical demand each day. This almost billion-unit (yearly) sub-$1.00 chip will directly impact electrical generation infrastructure investment and reduce pollution.

Lynntech, Inc.
7610 Eastmark Drive
College Station, TX 77840-4023
Recovery Act - Electrokinetic Sorting of Carbon Nanotubes
This project is to design an enabling system to make significant improvements to the countries capability to compete in nanomaterials manufacturing. As a result of this technology new jobs will be generated in a range of fields energy storage and conversion, medical sensors and products, defense technology, and new electronics.

Signalogic, Inc.
9617 Wendell Rd
Dallas, TX 75243-5510
Recovery Act - Data Center Energy Efficiency Increase using DSP Arrays
This project will develop software to adapt Signalogic DSP arrays to parallel processing software methods for heterogeneous CPU environment based on OpenCL (from Apple) and Chimera (from Lockheed-Martin Advanced Technology Laboratory), with an objective to produce a combined hardware and software demonstration.

This is a STTR Project
Solarno Inc.
153 Hollywood Drive
Coppell, TX 75019-7306
Recovery Act - Parallel Tandem Organic Solar Cells with Carbon Nanotube Sheet Interlayers
This project will develop innovative nanotechnology for manufacturing of high efficiency, flexible photovoltaic cells (OPVs). Furthermore, the proposed technology is cost-effective and resolves limitations in device lifetime. The numerous commercial applications include power generating rooftops, charging of portable electronic devices and light weight space exploration devices.

Trinity Thermal Systems
110 Pembroke
Wichita Falls, TX 76301-3932
Recovery Act - Cost Effective Thermal Energy Storage for Small Commercial Air Conditioning Systems
This project will develop a novel thermal energy storage system that can be retrofitted onto air conditioning and heat pump systems in small to mid-sized commercial buildings. This cost effective technology will help utilities reduce peak demand, increase overall efficiency, and integrate renewable energy systems into a smart electric grid.
Back to Top
Back to Map