New York
NEW YORK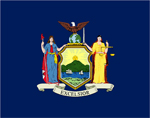 STTR Project
TetraGchem, LLC
110 8th Street, J Bldg.
Troy, NY 12180-7224
Recovery Act - Large-Scale SWNT Purification and Solubilization
This project will develop a new enabling technology for carbon nanotubes that employs a new medium that is simple to prepare, easy to remove, reusable, scalable, economical, biocompatible and tunable.

United Environment & Energy LLC
111 Ridge Road
Horseheads, NY 14845-1507
Recovery Act - Bio-Based Thermochromic Intelligent Roof Coating
This project aims to develop a bio-based intelligent roof coating technology to reduce both heating and cooling loads of buildings, which will bring significant energy and cost savings to the end-users, protect the environment and improve human health, and reduce the use of petroleum based fuel.
This is a STTR Project

Weidlinger Associates, Inc.
375 Hudson Street
New York, NY 10014-3656
Recovery Act - Energy System for Photovoltaic, Thermoelectric, and Heat Utilization
Solar panels have not achieved market penetration due to high initial costs and inefficiency, but the hybrid building integrated panels from this project will be part of the building's skin and significantly more efficient. These less costly and more durable panels are suitable for residential and commercial projects for new construction and renovations.
Back to Top
Back to Map