Illinois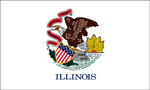 Applied Thin Films, Inc.
1801 Maple Ave., Suite 5316
Evanston, IL 60201-3135
Recovery Act - Ultra-Thin Antifouling Surface Treatments for Heat Exchangers
Fouling and corrosion of heat exchangers is a major source of energy consumption and efficiency loss in many industries. This project will develop a revolutionary and unique coating material that will be used to mitigate these effects.

QuesTek Innovations, LLC
1820 Ridge Avenue
Evanston, IL 60201-3621
Recovery Act - Computational Design of Advanced Oxide-Dispersion Strengthened Steels for High Temperature Nuclear Power Generation Applications
This project will use its Materials by Design technology to develop a novel new oxide dispersion strengthened steel composition that can withstand the extremely high temperatures (>650°C) and service conditions relevant to next-generation ("Generation IV") nuclear power generation (fission and/or fusion) applications.
Back to Top
Back to Map