Georgia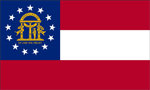 Argos Intelligence, LLC
3417 Chartley Lane
Roswell, GA 30075-6135
Recovery Act - Real-Time Continuous Monitoring of Flare Combustion Efficiency and Emissions
This project will develop the Advanced Remote Combustion Efficiency Monitoring (ARCEM) System to remotely measure are combustion efficiency and to identify and quantify the emission products from ares. The ARCEM System combines image processing and models to monitor are combustion efficiencies and their resulting gas emissions in real-time.

nGimat Co.
5315 Peachtree Boulevard
Atlanta, GA 30341-2107
Recovery Act - Scale-Up of Nanopowder Manufacturing Via Cost-Effective, Low Carbon-Footprint Process
This project will scale-up a versatile nanomaterials fabrication process to enable high-volume materials manufacturing for energy-storage and energy conversion. Nanomaterials enabled by this process will reduce our dependence on foreign energy sources, decrease harmful green-house gas emissions and forge a resurgence of the U.S. manufacturing sector.
Back to Top
Back to Map