Connecticut
CONNECTICUT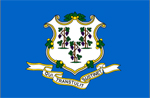 Magnetic Development, Inc.
170 Fort Path Rd. Suite #1
Madison, CT 06443-2281
Recovery Act - Solar, Ejector-Based VCC Air-Conditioner Utilizing Natural Refrigerants
This project will develop a novel air-conditioning technology that is solar powered and uses natural refrigerants instead of Freons. It eliminates ozone depletion effect and greenhouse gas emissions and additionally cuts the electricity use by 90%. A residential air-conditioner best suited for Southern states will be developed first with other applications to follow.

Rotating Composite Technologies, LLC
49 Cambridge Heights
Kensington, CT 06037-2310
Recovery Act - Development of a Scalable, Low-Cost Power Generation Water Turbine
An innovative water turbine power system is being developed that is anticipated to produce constant electrical power (does not vary output based on wind/sun/wave availability) that is competitive with coal and can provide substantial "green" energy when installed in rivers or ocean currents (e.g. Gulf Stream). The design, making use of both existing and patent pending technology, can create thousands of high value jobs in America and supports the country's goal of achieving energy independence.
Back to Top
Back to Map